New Korean skincare products [October 2020 – Week 1]
Given the sheer amount of Korean beauty products launching every month, it's hard to keep up with what's new in K-Beauty. To help you navigate the complex world of Korean Beauty, every week I break down the hottest beauty launches coming from Korea.

Unlike with my monthly posts on K-Beauty bestsellers, you won't find any link to purchase these products as they just became available in Korea.

But without further ado, here are the latest Korean skincare offerings of the week! Don't forget to check out this week's make-up launches as well.
Tonymoly – Propolis Tower Barrier line
Ahead of the colder months, Tonymoly launched a new line of products that promise line promises to rebalance, strengthen and restore the skin barrier. The "Propolis Tower Barrier" line contains 90% of natural ingredients, including Tonymoly's patented Tower Barrier™, a blend of Green Propolis, Honeydew Honey and Figwort Extract. Using big data, Tonymoly developed these products analysing the most common skin concerns and needs of young people in their 20s and 30s.

The Propolis Tower Barrier line is composed of 4 products:
Isa Knox – Age Focus Vitamin Ampoule
The "Age Focus Vitamin Ampoule" from Isa Knox promises to brighten dark spots, acne scars and uneven skin tone in just 7 days of use. The ampoule contains 25% of pure vitamin C from England and 5% of vitamin derivatives to stabilise the vitamin C content. Isa Knox also decided to formulate the product without any purified water, which has been shown to accelerate the oxidation process of vitamin C. The texture is described as thick but not sticky.
Sum:37° – Dear Homme Perfect All-In-One Firming Serum
The "Dear Homme Perfect All-In-One Firming Serum" from sum:37° was developed for men who want to tackle the first signs of aging. The product has a hybrid formula that combines the functions of a toner, an essence and a serum in one convenient bottle. The Dear Homme Serum contains sum:37°'s patented ingredient Cytosis®, a combination of over 80 natural fermented ingredient, along with ectoin that hydrates the skin and reduces the appearance of fine lines.
Illiyoon – Ceramide Fragrance-Free Hand Cream
Illiyoon extends their iconic Ceramide line with a new hypoallergenic hand cream. "The Ceramide Fragrance-Free Hand Cream" contains a combination of Ceramide and Shea Butter to nourish dry and rough skin. The cream has a mild but rich formula suitable for all skin types, including sensitive skin.
Banobagi – Calming Care line
Aesthetic clinic Banobagi introduces a new hydrating line dedicated to oily skin. The "Calming Care" line contains 10-fold hyaluronic acid, rose extract, calamine, allantoin and ceramide to soothe and gently hydrate oily skin types. All products passed numerous skin irritation tests and are suitable for sensitive skin.

The Calming Care line is composed of 4 products:
Dr. G – Brightening Vita Peeling Pads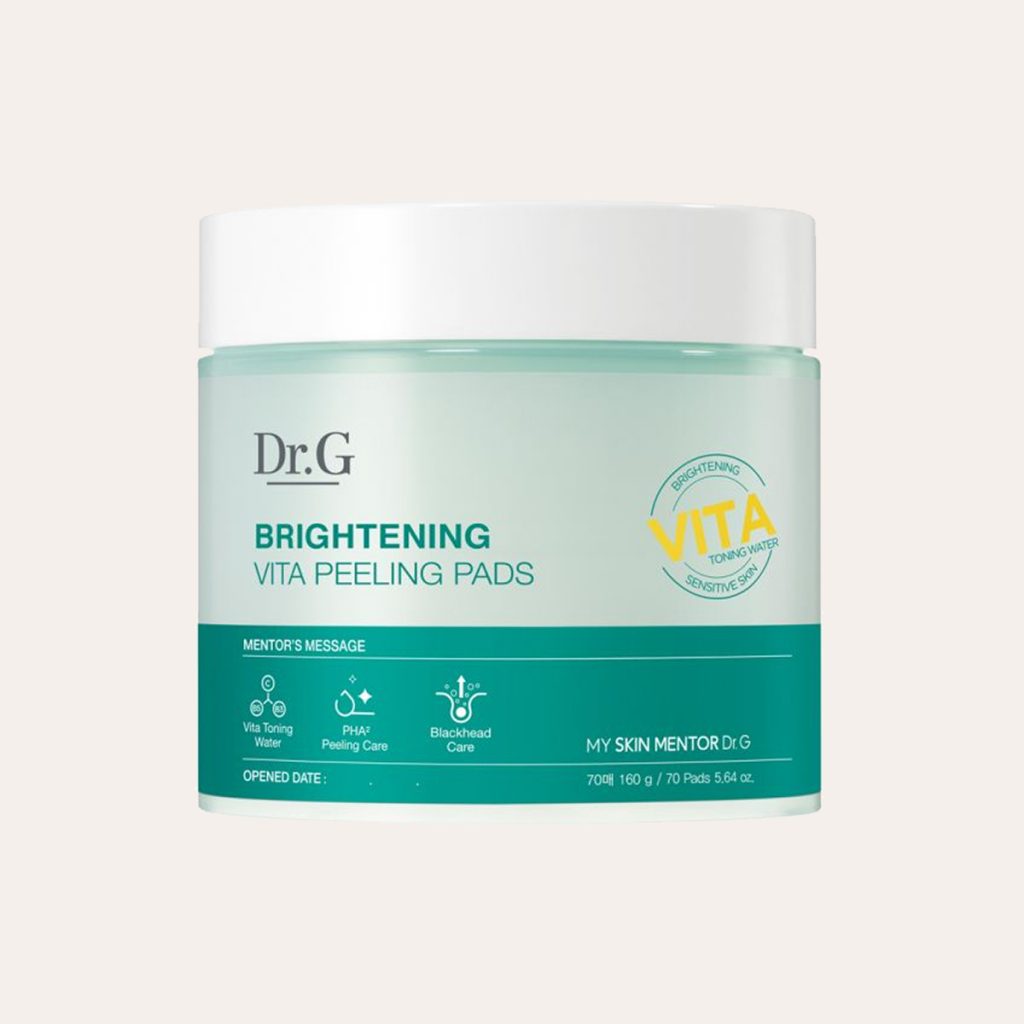 The new "Brightening Vita Peeling Pads" from Dr. G are exfoliating pads designed to help acne-prone skin. The pads are soaked in a solution containing PHA² to clear clogged pores, as well as a blend of niacinamide and vitamins to lighten dark spots and revive dull skin. The pads are made of vegan-certified plant-based cellulose fibers.
So Natural – Red Peel Tingle Serum Premium Texture
After the success of their Red Peel Tingle Serum, So Natural launched a new improved version of the product that promises to smooth and improve skin's texture. The "Red Peel Tingle Serum Premium Texture" contains a combination of chemical exfoliants like AHA, BHA, PHA and LHA, along with extract of Spongilla Lacustris which works to regulate sebum production.
MaxClinic – Blue Azulen Serum
The "Blue Azulen Serum" from MaxClinic was designed to soothe and strengthen sensitive skin. It contains Guaiazulene, which gives the formula a unique and natural blue shade, along with 8-fold Hyaluronic Acid, Sucralfate and Centella Asiatica. The serum doesn't contain any fragrance and passed all major skin irritation tests.

Discover more new K-Beauty.
Source: Press releases
Translation: © 2020 Odile Monod