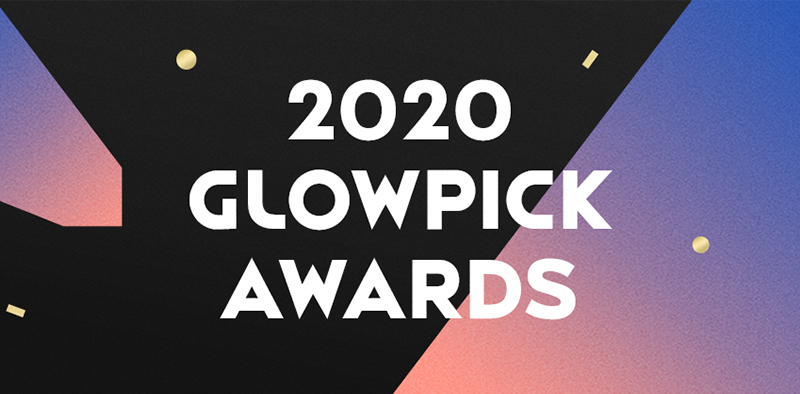 Glowpick Consumer Beauty Awards 2020 (Final Winners)
Glowpick is one of the most popular and highly regarded review platforms for beauty lovers in Korea and abroad. Their annual awards celebrate the most loved beauty products in Korea and last week, they finally announced the final results of the 2020 Glowpick Consumer Beauty Awards.
Glowpick is a beauty ranking and review service where Korean users can share their authentic thoughts on beauty products. What makes the platform stand apart is its unique algorithm that ensures that only credible and verified reviews are taken into account. The app was launched at a time when frustrations with online review services were running high and spammy or untrustworthy reviews could easily influence the system and final results. This emphasis on fairness became a major advantage of the app and quickly gained the support and trust of the consumers.
Glowpick Consumer Beauty Awards
The Glowpick Consumer Beauty Awards take place twice during the year and cover the top trends of the years and highest ranked products in skincare, make-up, fragrance and even baby products.
The trends presented by Glowpick Beauty Awards are not just a guide for your shopping basket but showcase the concerns and desires of the market at this moment in time. In recent years, for example, there has been a rise of sustainable small brands and eco-friendly ingredients due to without a doubt, the rising concerns about how the environment and pollution affect our skin.
2020 Korean Beauty Trends
This year's winning products have been selected based on data collected between November 16, 2019, and November 15, 2020. More than 600,000 reviews were written during this time and were collated from about 40,000 Glowpick users.
The trends of this year have to a large degree been influenced by the pandemic. Covid-19 has not only changed the way we travel and socialize but our skincare as well. With mask-wearing becoming the norm, a lot of people have started to observe breakouts, acne, and skin rashes, especially around the sensitive area of the cheeks, chin, and nose. This has escalated demand for soothing and light products as well as single-ingredient products that focus on natural ingredients. Another trend that will become more apparent as the pandemic continues is the return to CC or BB creams that can provide a light layer of coverage without smudging or being wiped off by face masks. Interestingly, a rise in luxury products was also observed this year.
Check out also the mid-year winners.
2020 Glowpick Consumer Beauty Awards Winners
Below the full product list. Use the menu below for easier navigation:
---

---

---

BEST WATER TONER
First place: 🇰🇷 Round Lab – 1025 Dokdo Toner ★ 4.13 [1212 reviews] (SHOP)
Second place: 🇰🇷 Manyo Factory – Bifida Biome Ampoule Toner ★ 4.24 [198 reviews] (SHOP)
Third place: 🇰🇷 Some By Mi – AHA BHA PHA 30 Days Miracle Toner ★ 4.15 [282 reviews] (SHOP)
BEST CREAM TONER
First place: 🇰🇷 Tonymoly – Wonder Ceramide Mochi Toner ★ 4.21 [1108 reviews] (SHOP)
Second place: 🇰🇷 Fraijour – Pro Moisture Creamy Toner ★ 4.29 [457 reviews] (SHOP)
Third place: 🇰🇷 Laneige – Cream Skin Refiner ★ 4.0 [572 reviews] (SHOP)
BEST ESSENCE TONER
First place: 🇰🇷 COSRX – Full Fit Propolis Synergy Toner ★ 4.32 [958 reviews] (SHOP)
Second place: 🇰🇷 Rovectin – Skin Essentials Activating Treatment Lotion ★ 4.23 [169 reviews] (SHOP)
Third place: 🇰🇷 Missha – Bee Pollen Renew Ampoule Skin ★ 4.17 [134 reviews] (SHOP)
BEST TONER PAD
First place: 🇰🇷 Dermatory – Hypoallergenic Cica Rescue Gauze ★ 4.18 [558 reviews] (SHOP)
Second place: 🇰🇷 COSRX – One Step Original Clear Pads ★ 4.02 [609 reviews] (SHOP)
Third place: 🇰🇷 Goodal – Green Tangerine Vita C Toner Pad ★ 4.0 [483 reviews] (SHOP)
BEST HYDRATING LOTION
First place: 🇰🇷 Innisfree – Green Tea Seed Essence-In-Lotion ★ 3.93 [100 reviews] (SHOP)
Second place: 🇰🇷 Primera – Organience Emulsion ★ 4.17 [60 reviews] (SHOP)
Third place: 🇰🇷 Lapothicell – Ceramide Hydra Fluid ★ 4.46 [41 reviews] (SHOP)
BEST MOISTURISING LOTION
First place: 🇰🇷 Aestura – AtoBarrier 365 Lotion ★ 4.38 [432 reviews] (SHOP)
Second place: 🇩🇪 Physiogel – Daily Moisture Therapy Facial Lotion ★ 4.15 [230 reviews] (SHOP)
Third place: 🇰🇷 Dr. Belmeur- Daily Repair Moisturiser ★ 4.18 [179 reviews] (SHOP)
BEST SOOTHING LOTION
First place: 🇰🇷 Hanyul – Pure Artemisia Watery Calming Fluid ★ 4.08 [202 reviews] (SHOP)
Second place: 🇰🇷 Keep Cool – Soothe Bamboo Lotion ★ 4.11 [145 reviews] (SHOP)
Third place: 🇫🇷 Avène – TriXera Nutri-Fluid Lotion ★ 4.21 [58 reviews] (SHOP)
BEST HYDRATING ESSENCE AND SERUM
First place: 🇰🇷 Torriden – DIVE-IN Low Molecule Hyaluronic Acid Serum ★ 4.21 [1020 reviews] (SHOP)
Second place: 🇰🇷 Innisfree – Green Tea Seed Serum ★ 3.91 [558 reviews] (SHOP)
Third place: 🇰🇷 Missha – Super Aqua Ultra Hyalron Oil-Free Hydrating Ampoule ★ 4.25 [193 reviews] (SHOP)
BEST MOISTURISING ESSENCE AND SERUM
First place: 🇰🇷 COSRX – Full Fit Propolis Light Ampoule ★ 4.11 [493 reviews] (SHOP)
Second place: 🇰🇷 Skinfood – Royal Honey Propolis Enrich Essence ★ 4.12 [458 reviews] (SHOP)
Third place: 🇰🇷 Celimax – The Real Noni Energy Ampoule ★ 4.06 [347 reviews] (SHOP)
BEST SOOTHING ESSENCE AND SERUM
First place: 🇰🇷 Goodal – Houttuynia Cordata Calming Essence ★ 4.13 [752 reviews] (SHOP)
Second place: 🇰🇷 Missha – Time Revolution Artemisia Treatment Essence ★ 4.15 [326 reviews] (SHOP)
Third place: 🇰🇷 Javin De Seoul – Young and Rich Cica Ampoule ★ 4.14 [206 reviews] (SHOP)
BEST TROUBLE CARE ESSENCE AND SERUM
First place: 🇰🇷 Etude House – SoonJung 5-Panthensoside Cica Balm ★ 4.23 [186 reviews] (SHOP)
Second place: 🇰🇷 Alive:Lab – Centella Dressing Powder ★ 4.12 [142 reviews] (SHOP)
Third place: 🇰🇷 Isoi – Acne Dr. 1st Speedy Spot ★ 3.89 [171 reviews] (SHOP)
BEST BRIGHTENING ESSENCE AND SERUM
First place: 🇰🇷 Missha – Vita C Plus Spot Correcting & Firming Ampoule ★ 4.09 [415 reviews] (SHOP)
Second place: 🇰🇷 Nature Republic – Vitapair C Dark Spot Serum ★ 4.15 [326 reviews] (SHOP)
Third place: 🇰🇷 Goodal – Green Tangerine Vita C Dark Spot Serum ★ 3.86 [372 reviews] (SHOP)
BEST ANTI-AGING ESSENCE AND SERUM
First place: 🇰🇷 Missha – Time Revolution Night Repair Probio Ampoule ★ 4.17 [587 reviews] (SHOP)
Second place: 🇰🇷 Iope – Stem III Ampoule ★ 4.11 [157 reviews] (SHOP)
Third place: 🇰🇷 Hera – Youth Activating Cell Serum ★ 3.98 [158 reviews] (SHOP)
BEST HYDRATING CREAM
First place: 🇰🇷 Missha – Super Aqua Ultra Hyalron Cream ★ 4.23 [480 reviews] (SHOP)
Second place: 🇰🇷 Dr. Belmeur – Advanced Cica Hydro Cream ★ 4.2 [306 reviews] (SHOP)
Third place: 🇰🇷 Bring Green – Artemisia Calming Repair Cream ★ 4.07 [304 reviews] (SHOP)
BEST MOISTURISING CREAM
First place: 🇰🇷 Aestura – Atobarrier 365 Cream ★ 4.28 [961 reviews] (SHOP)
Second place: 🇰🇷 Real Barrier – Extreme Cream★ 4.21 [322 reviews] (SHOP)
Third place: 🇫🇷 La Roche-Posay – Cicaplast Baume B5 ★ 4.11 [257 reviews] (SHOP)
BEST TONE-UP CREAM
First place: 🇰🇷 Blanc Pool – Filter Cream ★ 4.22 [227 reviews] (SHOP)
Second place: 🇰🇷 Cosnori – Whitening Dress Tone Up Cream ★ 3.82 [143 reviews] (SHOP)
Third place: 🇰🇷 Peripera – Milk Blur Pure Tone-Up Cream ★ 3.9 [58 reviews] (SHOP)
BEST NIGHT CREAM
First place: 🇰🇷 Missha – Time Revolution Night Repair Probio Ampoule Cream ★ 4.2 [303 reviews] (SHOP)
Second place: 🇩🇪 Eucerin – Hyaluron-Filler Night Cream ★ 4.24 [202 reviews] (SHOP)
Third place: 🇰🇷 Dr. Different – Vitalift-A ★ 4.16 [197 reviews] (SHOP)
BEST EYE CREAM
First place: 🇰🇷 AHC – Time Rewind Real Eye Cream for Face ★ 4.16 [481 reviews] (SHOP)
Second place: 🇰🇷 AHC – Ultimate Real Eye Cream for Face ★ 4.01 [73 reviews] (SHOP)
Third place: 🇰🇷 Swanicoco – Fermentation Peptine Eye Care Cream ★ 4.13 [46 reviews] (SHOP)
BEST BRIGHTENING CREAM
First place: 🇰🇷 Dr. G – Black Snail Cream ★ 4.11 [992 reviews] (SHOP)
Second place: 🇰🇷 Goodal – Green Tangerine Vita C Cream ★ 3.71 [109 reviews] (SHOP)
Third place: 🇰🇷 Holika Holika – Mechnikov's Probiotics Formula Radiance Cream ★ 4.18 [78 reviews] (SHOP)
BEST ANTI-AGING CREAM
First place: 🇰🇷 Iope – Super Vital Cream Rich ★ 4.31 [159 reviews] (SHOP)
Second place: 🇰🇷 Botanic Heal BoH – Probioderm Repair Lifting Cream ★ 4.08 [136 reviews] (SHOP)
Third place: 🇰🇷 Innisfree – Jeju Orchid Enriched Cream ★ 3.96 [77 reviews] (SHOP)