New Korean skincare products [January 2021 – Week 1]
Given the sheer amount of Korean beauty products launching every month, it's hard to keep up with what's new in K-Beauty. To help you navigate the complex world of Korean Beauty, every week I break down the hottest beauty launches coming from Korea.

Unlike with my monthly posts on K-Beauty bestsellers, you won't find any link to purchase these products as they just became available in Korea.
But without further ado, here are the latest Korean skincare offerings of the week! Don't forget to check out this week's make-up launches as well.
Primera – Prime Recovery Double Capsule Serum
When skin is sensitised or irritated by external stimuli, like dry weather, stress or prolonged mask-wearing, it's easy to experience severe dryness and loss of tone, which contribute to the development of fine lines.
Primera developed "Prime Recovery Double Capsule Serum" to strengthen the skin's natural defenses and protect it from premature skin aging
The serum combines the antioxidant properties of Primrose Oil Capsules, and the strengthening powers of Power Barrier Capsule™, a trademarked complex that works to repair and protect the skin barrier. The formula also features adenosine, which helps reduce the appearance of wrinkles, along with combination of squalane, peptides, niacinamide and vitamin C derivatives, to deeply hydrate and brighten skin.
The active ingredients in the formula are encapsulated to penetrate deeper and quicker into the skin. Human clinical trials showed that after using the serum, damaged skin barrier improved by 63.8% and elasticity of the skin around the eyes and the nasolabial area improved by 6.5% and 6.9%, respectively. 
The serum features a rich texture that penetrates smoothly into the skin without any stickiness and has a woody fragrance with citrus and floral notes.
AHC – Youth Lasting Real Eye Cream For Face (9th edition)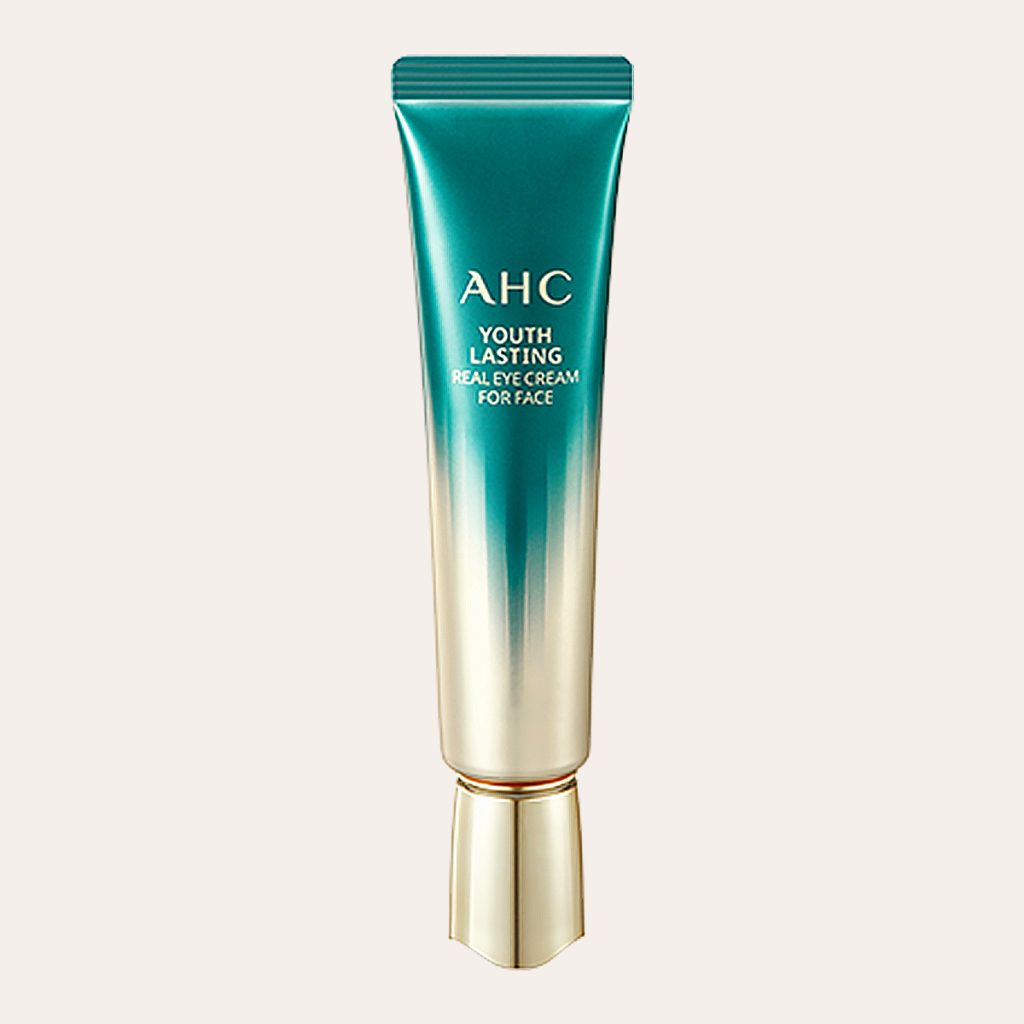 The "Youth Lasting Real Eye Cream For Face" is the 9th edition of AHC's iconic "Eye Cream For Face", the top selling eye cream of all time in Korea.

For this edition, the formula has been upgraded with "20s Biome", an ingredient exclusively developed by AHC based on the microbiome cultures usually found on the surface of the skin of young people in their 20s.

In addition, the new "Real Eye Cream For Face", contains twice the amount of skin-similar collagen and elastin compared to the previous edition, and it also features a new skin-similar peptide to improve elasticity and overall skin tone.
The formula has also been upgraded using a patented ultra-fine micro method to break down the formula into 1/500 size of the pore for better absorption. Thanks to this exclusive technology, the formula can penetrate up to 10 layers of the stratum corneum.
Through human application tests, the eye cream was proven to improve the appearance of fine lines and dark spots, as well as calm irritation caused by prolonged mask-wearing.
Mediheal – Baobab Soothing Moisture Care Line
Mediheal announced the launch of the "Baobab Soothing Moisture Care" line, a new range of deeply moisturising and soothing skincare products.

All products in the Baobab Soothing Moisture Care line were recognised as low-irritation products by the KC Skin Research Center, with a skin irritation index of 0.00. The line contains 5-layer ceramide, low weight molecular hyaluronic acid and 8-layer hyaluronic acid. The products are also enriched with baobab seed extract, a natural source of vitamin E and minerals, which replenishes skin and keeps it hydrated for a long time.

The formulas underwent a process of six-step water purification to remove all impurities and offer gentle hydration to compromised and sensitive skin. Below the full product line-up:
Baobab Soothing Moisture Foam
Baobab Soothing Moisture Toner
Baobab Soothing Moisture Serum
Baobab Soothing Moisture Cream
Bon Gyul – Artemisia Cure Sheet
Aekyung Industrial's new Hanbang skincare brand Bon Gyul launched a sheet mask called "Artemisia Cure Sheet".

The product contains Mugwort Leaf Extract from Ganghwa, a variety of mugwort with powerful anti-inflammatory properties that helps soothe and hydrate irritated or sensitised skin. Additionally, the essence in the mask also features White Ginseng Seed Extract and White Ginseng Flower Extract to rebalance skin and revilitise dull complexion.

The mask was produced by compressing original mugwort leaves on a cellulose sheet made from eucalyptus wood. The sheet was then soaked in the highly-concentrated essence of mugwort and white ginseng for 72 hours to maximise penetration.