New Korean skincare products [January 2021 – Weeks 3 & 4]
Given the sheer amount of Korean beauty products launching every month, it's hard to keep up with what's new in K-Beauty. To help you navigate the complex world of Korean Beauty, every week I break down the hottest beauty launches coming from Korea.

Unlike with my monthly posts on K-Beauty bestsellers, you won't find any link to purchase these products as they just became available in Korea.
But without further ado, here are the latest Korean skincare offerings of the week! Don't forget to check out this week's make-up launches as well.
Dr. G – Dermoisture Barrier.D
Gowoonsesang Cosmetics's dermacosmetic brand Dr.G launched "Dermoisture Barrier.D", a new moisturising line designed to take care of weakened skin and strengthen skin's natural defenses.
All products in the line contain 7-Dehydrocholesterol, a Pro-Vitamin D complex that helps rebalance skin and protect it from external aggressions.
Additionally, the line also features a 3:1:1 combination of ceramide, cholesterol and fatty acids to support skin barrier function, along with fillagrin, a protein that plays a crucial role in the structure of the skin. Lastly, Dr.G. formulated these products using a Lamellar-in-Lamellar structure, a lipid structure that mimics the natural structure of the skin and helps lock in moisture, shield skin from external aggressions and improve absorption of active ingredients.
The line completed human skin irritation tests and is suitable for sensitive skin types. Below the full product line-up: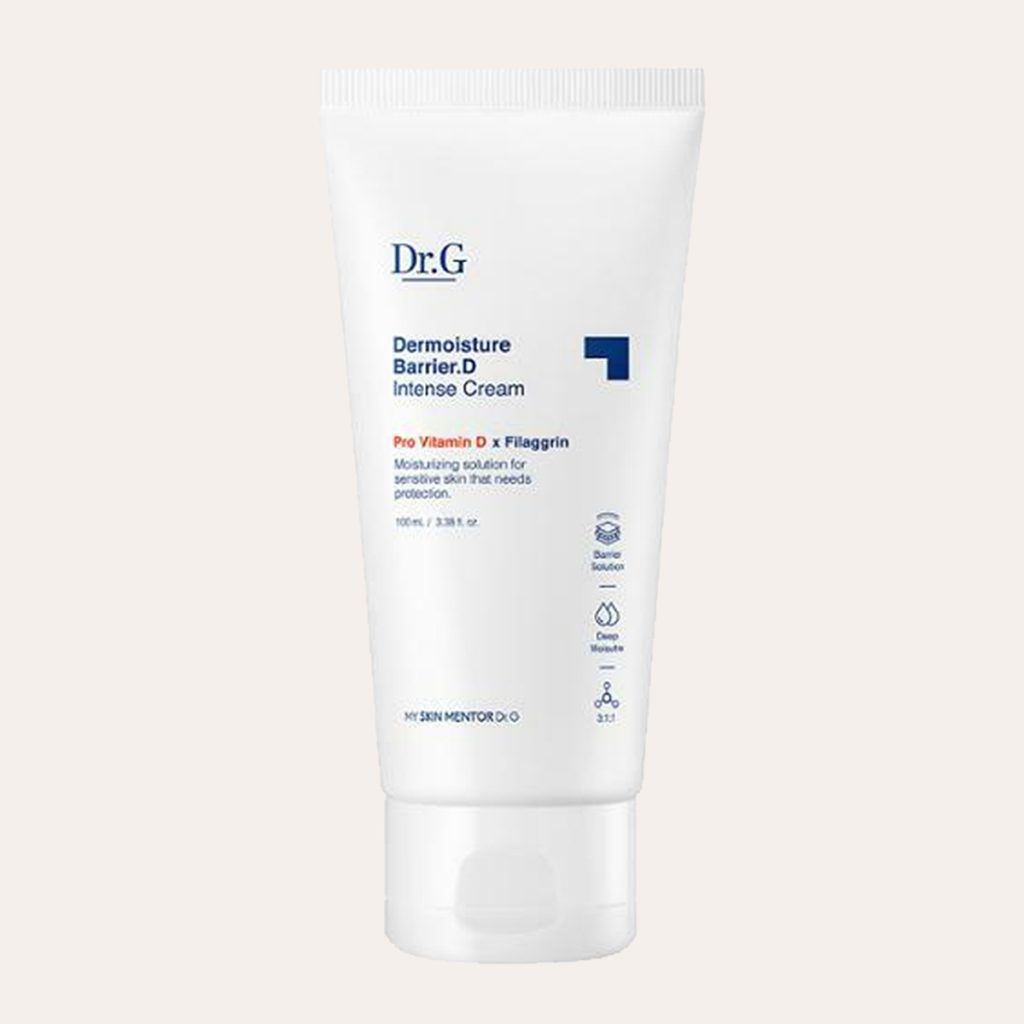 Dermoisture Barrier.D Intense Cream
Dermoisture Barrier.D Daily Lotion
Dermoisture Barrier.D Multi Balm
A'Pieu – Madecassoside Ampoule 2x
A'Pieu announced the launch of the new "Madecassoside Ampoule 2X", a highly-concentrated soothing ampoule that quickly calms skin weakened by external aggressions. Thanks its very minimalist formula, comprising only of Centella Asiatica Extract and Madecassoside, the product suits even the most sensitive skin types.

Compared to A'Pieu's standard "Madecassoside Ampoule", this version is said to be 10 times more concentrated and effective.

The ampoule has a water-like texture that is easily absorbed by skin, leaving it hydrated a long time. H&Bio Skin Research Center conducted a series of human clinical trials and confirmed that "Madecassoside Ampoule 2x" soothes irritated skin after just one application and it's also suitable for sensitive skin types. 
AHC – Prestige Rosy 24K Gold line
Professional aesthetic brand AHC launched "Prestige Rosy 24K", a new premium anti-aging line created to enjoy the luxury of gold therapy at home.

The key ingredients of the line are 99.9% pure 24K Gold, a popular ingredient used in luxury skin treatments, and Golden Thread Rose, an exclusive ingredient inspire by Golden Thread Lifting and developed by AHC to provide deep hydration and nourishment to skin, as well as improve elasticity and reduce the appearance of fine lines.

Golden Thread Rose was formulated combining Golden Thread Collagen with Rose Water, an ingredient that helps hydrate, firm and brighten complexion, and that was obtained by AHC by ripening British Royal Roses at a low temperature for 100 consecutive hours. 

Additionally, the line also features Golden Thread 8-Fold Hyaluronic Acid, an ingredient that combines the properties of gold and 8 molecular weights of Hyaluronic Acid, as well as a Triple Jewelry Complex, made of diamonds, rubies and sapphires, to give skin a subtle instant glow.

All products were formulated using a patented "Coating Liposome Absorption Technology", a system that forms a protective coating around the active ingredients in the formula, to keep them in their most effective form until they reach the deepest layers of the skin.

Below the full product line up:
Prestige Rosy 24k Gold Energizing Cream
Prestige Rosy 24k Gold First Essence
Prestige Rosy 24k Gold Essence Lotion
Prestige Rosy 24k Gold Firming Capsule Ampoule
Prestige Rosy 24k Gold Face Fit Mask
Sandahwa – Double Effect Anti-Wrinkle Serum
"Double Effect Anti-Wrinkle Serum" by organic beauty brand Sandawha, is a new multifunctional skincare product that acts as a toner, a serum and a face oil at the same time.
Its formula combines an oil layer and a serum layer with a golden ratio of 1:3, designed following the skin's perfect oil and water balance.
In particular, the pink-toned oil layer at the top, contains alpha-Bisabolol, an ingredient with brightening properties which also prevents skin from losing moisture. The serum layer at the bottom instead, contains PCA, a patented ingredient derived from camellia flowers, that facilitates absorption of active ingredients and improves skin elasticity and tone.
The serum doesn't contain any PEG surfactant, emulsifiers or artificial colours. To give the oil layer its striking pink colour, Sandawha used naturally-derived ingredients like Eclipta Prostrata Extract, Melia Azadirachta Leaf Extract and Moringa Oleifera Seed Oil.
Leaders – Calming Biotics line
Dermacosmetics brand Leaders announced the launch of "Calming Biotics", a new line designed to repair and strengthen sensitive skin. 

All products are formulated using postbiotics, metabolic byproducts secreted by live bacteria that help rebalance skin and protect it from external aggressions. The main ingredients of the line are two postbiotic strains, Fusidium Coccineum Ferment Filtrate and Lactobacillus Ferment, liposomal centella asiatica to soothe irritation, and vegetable mucin, which protects skin by forming  forming a hydrating film on its surface.

Leaders developed "Calming Biotics" as a complete skincare line for customers looking to minimise the amount of products in their skincare routine without compromising effectiveness.

Below the full product line-up:
Calming Biotics Essence Water
Calming Biotics Cream Mask
Su:m37° – Centenica Eye Cream
Su:m37° announced the launch of "Centenica Eye Cream", a luxury eye cream with the power of 100 years of natural fermentation.

As with the other products in the Centenica line, the eye cream contains Sauternes wine from France and balsamic vinegar of Modena from Italy, two premium ingredients naturally fermented for over 100 years. 

"Centenica Eye Cream" was formulated using Golden Meading Fermentation™ method, an ancient fermentation technology which is regarded as the pinnacle of fermentation science. This technology allows the product to be absorbed deeply into the skin, as well as stimulate collagen production.

The product comes with a triple-function Centenica Eye Massager, designed to stimulate, brighten and revitilise the delicate area under the eyes.
Sioris – My First Essener
Clean beauty brand Sioris launched "My First Essener", an innovative multifunctional product that acts both as a toner and an essence.

"My First Essener" contains 14 natural ingredients and it's designed to be used at the first step of skincare. The formula of the product features a soothing blend of distilled organic green tea leaves from Boseong (Korea) and mugwort leaf extract, a natural source of vitamin A. Additionally, the product was also formulated using polyglutamic acid, a next-generation moisturising factor, that deeply hydrates skin by forming a thin breathable film on its surface. 

"My First Essener" received a COSMOS certification for Natural and Organic Cosmetics. Sioris used eco-friendly packaging for the product (the box is made of sugar cane, the bottle is in glass and the label is water-peel) and they also announced they will donate 1000 won  (0.9 USD) to Forest for Life for every bottle sold.