New Korean skincare products [March 2021 Weeks 1-2]
Given the sheer amount of Korean beauty products launching every month, it's hard to keep up with what's new in K-Beauty. To help you navigate the complex world of Korean Beauty, every week I break down the hottest beauty launches coming from Korea.
Unlike with my monthly posts on K-Beauty bestsellers, you won't find any link to purchase these products as they just became available in Korea.
But without further ado, here are the latest Korean skincare offerings of the week! Don't forget to check out this week's make-up launches as well.
LG Household & Health Care's natural fermentation Su:m37° released "Heart Edition", a limited edition set that conveys a warm message of love and support, at a time when many people are separated from their loved ones due to social distancing.

In particular, the set was created in collaboration with Haam Young-hoon, an up-and-coming pictographer who raised to fame after designing the logo of the 2018 Pyeongchang Olympic Winter Games. The packaging of the set is inspired by "LOVE", a series where the artist uses dots to reinvent the heart symbol and celebrate the feeling of love.

The Heart Edition includes Su:m37°'s most loved products: in March the brand released a first set containing their "Secret Essence Fundamental Treatment" along with their "Air Rising TF Dazzling Moist Micro Foam Cushion", whereas in April the brand plans to release another set featuring "Water-Full Time Leap Water Gel Cream" and "Water-Full CC Cushion".
Hersteller – Wonder Veggie line
Vegan beauty brand Hersteller launched "Wonder Veggie", a new superfood vegan skincare line. The line was pre-launched exclusively at W Concept, a curated online store with a cult following in Korea.
"Wonder Veggie" is a vegan skincare line that captures the natural energy of green superfoods rich in vital nutrients. In addition, all products are weakly acidic, non-irritating and hypoallergenic, making them suitable for all skin types including the most sensitive ones.
The main ingredient of the line is Kale, one the top 10 superfoods identified by the World Health Organisation, which hydrates and clears skin, by improving it natural strength.
The "Wonder Veggie" line consists of 4 products: "Wonder Veggie Juicy Treatment Essence", "Wonder Veggie Mellow Cleansing Balm", "Wonder Veggie Balancing Cleansing Foam" and "Wonder Veggie Hydrating Gel Cream", with the latter being launched next month.
Wonder Veggie Balancing Cleansing Foam
Wonder Veggie Juicy Treatment Essence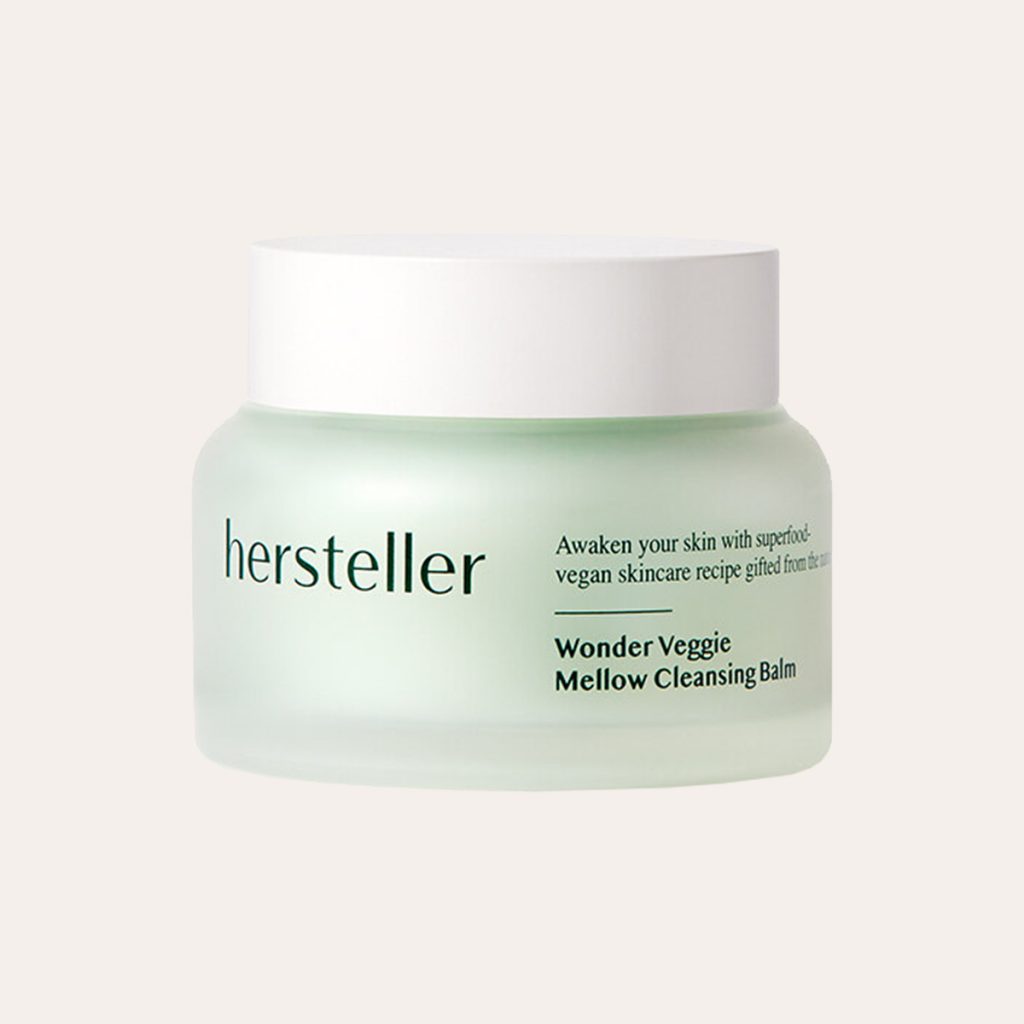 Wonder Veggie Mellow Cleansing Balm
"Wonder Veggie Juicy Treatment Essence" is a first treatment essence that contains 90% Kale Leaf Extract, a powerful antioxidant that was gently soaked at low temperature for 72 hours to preserve its incredible properties. The formula of the essence combines Kale Leaf Extract, Basil Leaves and a Singreen complex, a blend of green fruits like Muscat Grapes, Green Papaya, Green Apple and Green Plums. Together, these ingredients deliver 7 major skin benefits at once: they're antioxidant, improve skin texture, promote skin clarity, revitilise dull complexion, hydrate, soothe and restore the natural skin's water and oil balance.
"Wonder Veggie Mellow Cleansing Balm" is a natural vegan cleansing balm with excellent moisturising properties. The product has an oil balm texture that melts at body temperature and gently wipes away even the heaviest makeup without irritation. Along with Kale, which protects the skin from damage during cleansing, the cleanser contains 30% olive oil to deeply hydrate the skin.
"Wonder Veggie Balancing Cleansing Foam" is a mildly acidic vegan cleansing foam that works to restore the natural's skin balance after cleansing. Thanks to its natural coconut-derived surfactant, the rich and soft formula of the product thoroughly cleanses and hydrates the skin without irritation. The cleanser also contains multiple plant extracts derived from Lime, Noni (Morinda Citrifolia), Kale, Broccoli and Brussels Sprouts, natural sources of vitamins which work together to boost skin health.
Iope – Pro Peeling Triple AHA Cleanser
Functional beauty brand Iope announced the launch of "Pro Peeling Triple AHA Cleanser", a new cleanser that gently removes dead skin cells and smooths skin texture.

The cleanser combines 3 different types of AHA (Alpha Hydroxy Acid): Glycolic Acid, Citric Acid and Lactic Acid, in an optimal ratio exclusively developed by Iope Lab. The combination of these AHA ingredients with a mildly acidic formula, effectively works to remove dead skin cells and maintain the natural pH balance of the skin at the same time.

The "Pro Peeling Triple AHA Cleanser" uses rich bubbles to reduce skin friction, while cleansing the skin of makeup residue, fine dust and dead skin cells. As wash-off cleanser with peeling properties, the product minimises the chance of skin irritation usually associated with chemical exfoliants. The formula was enriched with Hyaluronic Acid to replenish the skin, and it's 10-free and hypoallergenic.
Innisfree – Jeju Cherry Blossom Jam Cleanser
Innisfree launched "Jeju Cherry Blossom Jam Cleanser", the latest addition to their popular "Jeju Cherry Blossom" range.

The "Jeju Cherry Blossom Jam Cleanser" is a morning cleanser with a mild, hydrating, pink gel formula that smells like cherry blossom flowers. Its formula contains naturally derived Betaine  extracted from Sugar Beets and Jeju Yoshino Cherry Tree, which glides on the skin to gently remove impurities and revitilise complexion at the same time.

The cleanser has a mildly acidic formula that is soft as jam and bouncy like slime. The gel formula lathers to a soft foam made of micellar cleansing particles, which attract skin waste like a magnet and gently lift it away.
Mamonde – Probiotics Ceramide Cream
Mamonde released "Probiotics Ceramide Cream", a moisturising cream that helps maintain a healthy skin barrier, improving the skin's natural strength.

The product contains "Floral Biotics™", Mamonde's new microbiome ingredient, as well as 7 layers of reinforced ceramide, which work together improve skin barrier function, protect skin from external aggressors and promote general skin health.

Mamonde's exclusive ingredient Floral Biotics™, is made of prebiotics, probiotics, postbiotics and hydrating ingredients derived from Hibiscous flower, which help moisturise skin and strengthen the skin barrier. In particular, the probiotics strains are byproducts of lactobacillus fermentation, and the postbiotics contain a patent-pending strain discovered by Mamonde through 30 years of flower research.

Additionally, Mamonde also used 7 layers of reinforces ceramide to deeply moisturise skin. These ceramides are structurally similar to the skin barrier and consist of 2 ceramides indipendently developed by the Amorepacific Group and 5 eco-ceramides derived from natural oils.

Lastly, the "Probiotics Ceramide Cream" has a hypoallergenic formula that completed 4 skin compatibility tests is 8-free, making the product suitable for all skin types including the most sensitive ones.
Belif – Super Drops Ampoules
Belif announced the launch of 3 "Super Drops Ampoule", highly-concentrated and targeted ampoules designed to improve skin texture, brightness and elasticity.
"Super Drops – Vitamin C 8%" contains 8% of pure, stabilised ascorbic acid to brighten skin, along with many functional anti-aging ingredients that help reduce the appearance of fine lines. The product contains more than 70% soothing and moisturising ingredients to reduce stickiness usually associated with high concentrations of vitamin C. The ampoule was also formulated using Belif's signature Herb-Toco Formula ™, made of Vitamin C, Vitamin E and 8 kinds of herbal extracts, that work together to deliver antioxidant protection and improve skin elasticity.
"Super Drops – PHA 5%" contains 5% of PHA, a gentle chemical exfoliant, which helps improve skin texture. The ampoule has a deeply moisturising formula that hydrates and smooths the skin.
"Super Drops – Niacin-Hydra Duo 10", is a firming ampoule that contains Niacin-Hydra Duo Complex, a combination of Niaciamide and several moisturising ingredients that improve skin elasticity and visibly reduce the appearance of enlarged pores. Thanks to its rich formula, the ampoule fills in the pores and smooths skin texture without stickiness.
CNP Laboratory – Ferulic Actimune Ampoule
CNP Laboratory launched "Ferulic Actimune Ampoule", a highly-concentrated ampoule that supports skin health and protects skin from environmental stressors.

The product contains a strong antioxidant blend of Ferulic Acic, Vitamin C and Vitamin E, and successfully completed an antioxidant test, where the formula was exposed to air for 100 hours. The ampoule also takes care skin irritated by external stimuli thanks to a triple defense action that protects skin from 3 major skin concerns: environmental stressors, dryness and post-inflammatory hyperpigmentation.

Furthermore, the ampoule was shown to improve hydration levels, skin texture, clarity, pigmentation and overall brighteness.