New Korean skincare products [March 2021 Weeks 3-4]
Given the sheer amount of Korean beauty products launching every month, it's hard to keep up with what's new in K-Beauty. To help you navigate the complex world of Korean Beauty, every week I break down the hottest beauty launches coming from Korea.
Unlike with my monthly posts on K-Beauty bestsellers, you won't find any link to purchase these products as they just became available in Korea.
But without further ado, here are the latest Korean skincare offerings of the week! Don't forget to check out this week's make-up launches as well.
Su:m37° – Losec Summa Elixir [line extension]
LG Household & Health Care's natural fermentation brand Su:m37° announced the launch of "Losec Summa Elixir Treatment" and "Losec Summa Elixir Treatment Lumière". The two products are the latest additions to Losec Summa, a skincare line that reinterprets the ancient recipe of Theriaca, a medical concoction relished by the Roman imperial family.
The products help enhance the inner strength of the skin to minimise the impact of external stimuli. Plus, they also improve skin tone and refine texture, leaving the skin with a healthy, radiant glow.
Both formulas contain Golden Elixir™, the key ingredient of the Losec Summa line, along with Aura Enzyme™ to illuminate complexion and enhance skin radiance. In particular, Golden Elixir™ is a modern reinterpretation of a fermentation technique that dates back to the Roman Empire, while Aura Enzyme™ combines Su:m37°'s signature enzyme fermentation technology with luxurious white truffle.
Losec Summa Elixir Treatment
Losec Summa Elixir Treatment Lumière
Illiyoon – Probiotics Redness Relief Cream
Illiyoon, a hypoallergenic, highly-moisturising dermocosmetic brand for the whole family, launched "Probiotics Redness Relief Cream".
The produce will replace the brand's "Probiotics Skin Barrier Cream" and was proven to reduce skin redness through numerous human application tests. In particular, it was observed that in hot and humid environments, the cream reduced skin redness by 57% and decreased skin temperature by 151%, whereas in cold and dry environments, the product decreased skin redness by 72%, effectively soothing skin irritated by external stimuli regardless of the season.
The cream features a highly-hydrating formula that is lightweight and powerful at the same time. It's especially recommended for dehydrated oily skin because it effectively balances sebum production and restores the skin's natural oil and water balance. The cream feels refreshing on the skin even after multiple applications, making it a great product for both warm and cold seasons.
The product successfully completed hypoallergenic tests, dermatological tests and non-comedogenic tests. Its gentle formula is suitable for sensitive skin that doesn't contain any animal-derived ingredients, polyethylene glycol (PEG), surfactants or fragrance.
"Probiotics Redness Relief Cream" contains Amorepacific's patented Green Tea Lactic Acid Bacteria, along with Lacto Skin Complex™ (Lactobacillus Ferment Lysate), Yoon Complex™, Madecassoside and Centella Asiatica Extract to support skin barrier function.
In the aftermath of Covid-19, mask-wearing has now become commonplace – this led to an important change in the sunscreen market, with an increasing number of consumers looking for sunblocks containing soothing ingredients that help relieve skin irritation caused by prolonged use of face masks.
To respond to this market shift, Illiyoon, a brand known for its hypoallergenic, highly-moisturising skincare products, launched a new line of low irritant sunscreens.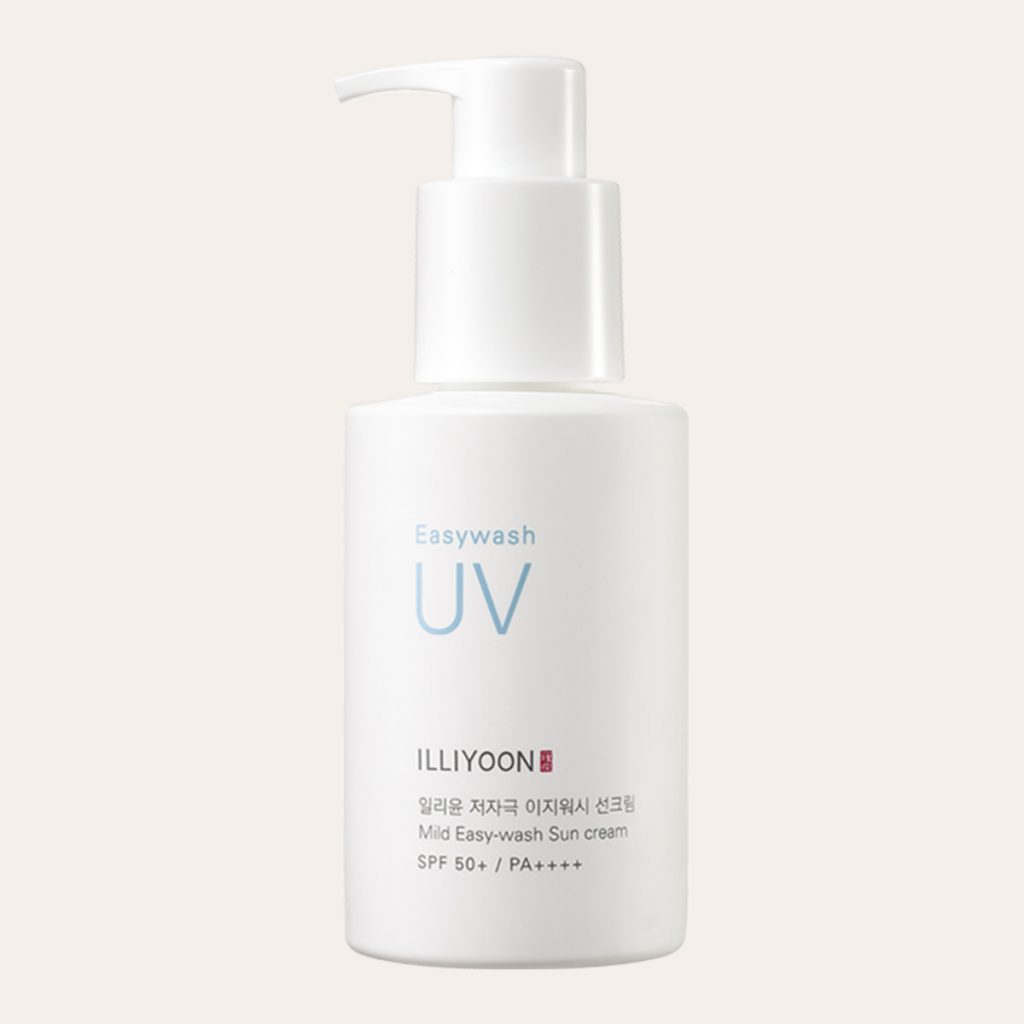 Mild Easy-Wash Sun Cream SPF 50+ / PA++++
Blemish Tone-Up Sun Cream SPF 50+ / PA++++
"Mild Easy-Wash Sun Cream SPF 50+ / PA++++" is a mild sunscreen made for all skin types, including sensitive skin that is easily prone to irritation. Thanks to its broad UV protection, and its balanced, highly-moisturising formula, the product glides smoothly on the skin without stickiness, greasiness or shine.
The sunscreen was also formulated using an exclusive Easy-Wash Formula™ technology,which uses water instead of oil in the coating membrane, making it easier to wipe away the product in a single wash at the end of the day. "Mild Easy-Wash Sun Cream" passed 5 skin sensitivity tests, including dermatological tests, hypoallergenic tests, primary skin irritation tests, eye irritation tests and the German dermatest. Through a series of human application tests, it was confirmed that the product offers strong UV protection for up to 8 hours.
The sunscreen features a cooling formula that helps soothe skin irritated by external aggressors. and it also comes in a 150ml airless pump bottle.
"Blemish Tone-Up Sun Cream SPF 50+ / PA ++++" is a soft and hydrating sunscreen that also doubles as a make-up base. Thanks to its peach-coloured formula, the product protects skin from UV rays and brightens overall complexion at the same time. Thanks to numerous human application tests, the product was confirmed to even skin tone for up to 6 hours, as well as reduce the appearance of pores, freckles and blemishes.