New Korean skincare products [April 2021 Weeks 1-2]
Given the sheer amount of Korean beauty products launching every month, it's hard to keep up with what's new in K-Beauty. To help you navigate the complex world of Korean Beauty, every week I break down the hottest beauty launches coming from Korea.
Unlike with my monthly posts on K-Beauty bestsellers, you won't find any link to purchase these products as they just became available in Korea.
But without further ado, here are the latest Korean skincare offerings of the week! Don't forget to check out this week's make-up launches as well.
Age 20's – Long Protection Essence Sun Pact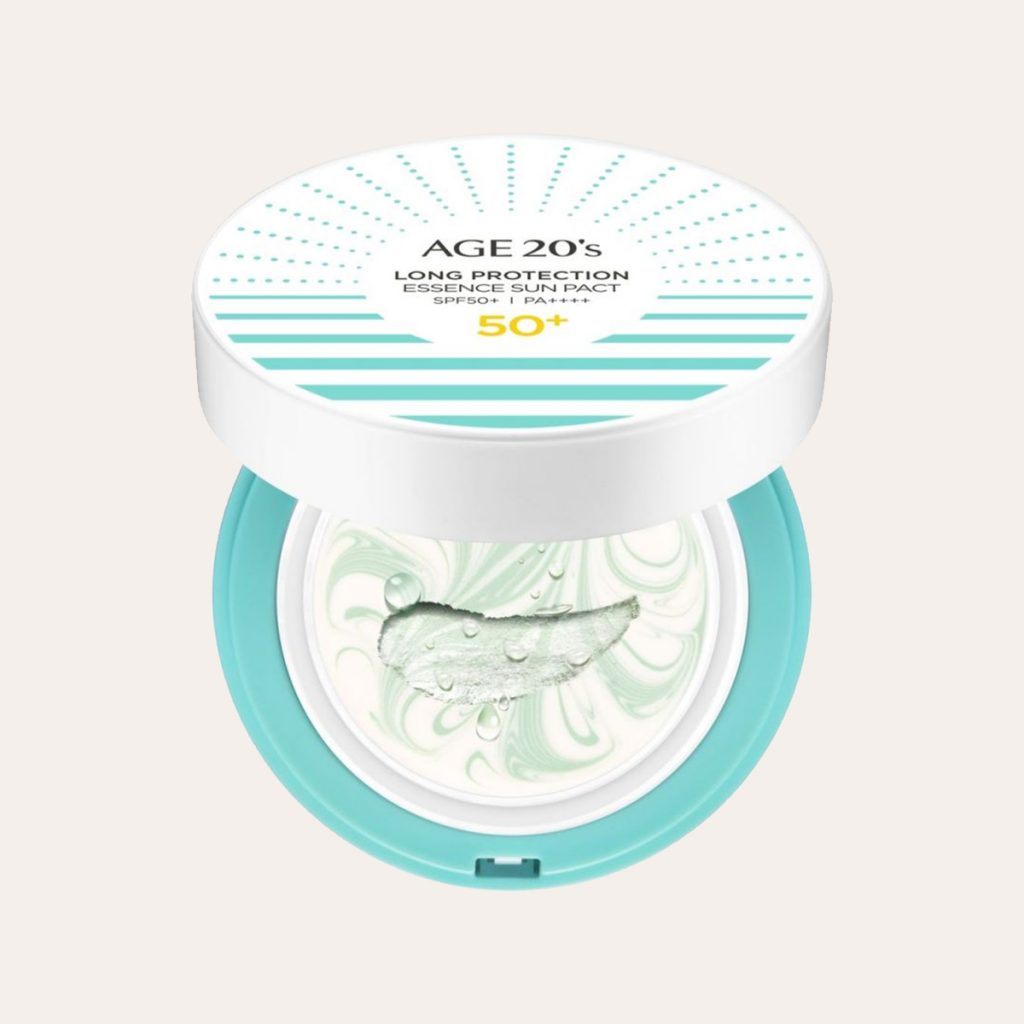 Age 20's launched "Long Protection Essence Sun Pact SPF50+ / PA++++", a product that protects skin from temperature changes as well as UV rays.
"Long Protection Essence Sun Pact" is an SPF compact that effectively protects skin from UV damage for 10 hours with just one application. Furthermore, through a human application test the compact was also proven to prevent irritation by protecting skin from cold and hot air.
"Long Protection Essence Sun Pact" helps soothe irritated skin thanks to a 60% content of 'Aquacica Essence', an ingredient obtained applying Age 20's' Essence Pocket Technology, the same signature technology found in the brand's iconic compact foundations. The formula also features AK Ceramide, a patented ingredient developed by Aekyung Industrial that helps strengthen the skin's barrier.
The latte pattern of Age 20's "Long Protection Essence Sun Pact" allows the product to double as a make-up base, with awhite part containing sebum-absorbing powder and a mint-coloured part working to neutralise any redness.

The SPF compact is a triple functional cosmetic product that offers whitening, anti-wrinkle and UV-protecting (SPF 50+ / PA ++++)  properties. Furthermore, the product is a hybrid sunscreen that combines the benefits of organic and inorganic UV filters, with minimal white cast and skin irritation. "Lond Protection Essence Sun Pact" is also 10-free and successfully completed primary skin irritation tests.
Dr. Jart + – Pore Purifying Mud Mask
Global dermacosmetic brand Dr. Jart+ launched "Pure Purifying Mud Mask", a sheet mask that helps remove impurities and dead skin cells linked to excessive sebum production, skin aging and stress. 

The mask combines green mud and PHA, a mild peeling ingredient, to overcome the shortcomings of existing mud masks. Green mud, the key ingredient of the mask, is a mineral clay extracted from the volcanic earth of the  Auvergne region in France, and features small particles that gently adhere to the skin, harden over time and effectively remove excess sebum and impurities.
Illiyoon – Ceramide Derma line
Hypoallergenic dermacosmetic brand Illiyoon launched "Ceramide Derma", a new line for dry that is also sensitised by external aggressors.
The new "Ceramide Derma Facial Cream" contains Phytoceramide™ derived from soybeans to hydrate skin and strengthen the moisture barrier. Phytoceramide™, which has a similar structure to the ceramide found in healthy skin, is a moisturising ingredient that quickly penetrates deep into the stratum corneum of the skin, offering excellent soothing effects for sensitive skin.
In addition, an ingredient called Hyaluronic Ceramide™ forms a strong, double-layered moisturising film to lock in moisture and maintain skin health. The product was proven to keep skin hydrated for up to 100 hours through a human application test, and it will keep skin comfortably hydrated throughout the night.
"Ceramide Derma Facial Cream" also successfully completed non-comedogenic tests, making the product suitable for acne-prone skin, along with primary skin irritation tests that confirmed the cream is suitable for sensitive skin. Furthermore, the formula completed hypoallergenic tests, dermatological tests and doesn't contain any parabens, animal-derived ingredients, artificial fragrance or PEG surfactants.
Like the cream, the "Ceramide Derma Relief Skin Softener" also helps soothe and hydrate sensitive skin. The product has a translucent, non-sticky and fragrance-free formula that is also suitable for oily skin types. "Ceramide Derma Amino Cleansing Foam" is a foaming cleanser with a bouncy cream formula that gently remove impurities and dead skin cells, while protecting ceramide to keep skin healthy.
Ceramide Derma Moisturising Facial Cream
Ceramide Derma Amino Cleansing Foam
Ceramide Derma Relif Skin Softener
Missha – Time Revolution 5th generation [line renewal]
Missha announced the renewal of their bestselling "Time Revolution" franchise.
The key product of the line is the "Time Revolution The First Essence 5X", the 5th generation of Missha's iconic first treatment essence. Like the previous versions, the essence has a watery formula that effectively hydrates, smooths and brightens skin. The product contains 97% Extreme Cica Yeast Ferment Extract™, a health-boosting ingredient created by Missha applying their exclusive Extreme Ferment α™ technology.
The technology combines Missha's exclusive fermentation method with a new delivery technology that improves the essence's absorption rate compared to the previous formulation. In particular, the delivery technology works by turning the fermented ingredients in the formula into phospholipids, molecules that mimic the skin's natural lipids.
Missha also renewed the rest of the line using the same technology found in the essence, and for the first time ever, they launched  a day cream to compliment the popular "Time Revolution Night Repair Ampoule Cream".
Below the full product line-up:
Time Revolution The First Essence 5X
Time Revolution Night Repair Ampoule 5x
Time Revolution Night Repair Ampoule Cream 5x
Time Revolution The First All Day Cream
Time Revolution Night Repair Ampoule Sheet Mask 5x
So Natural – So Vegan Ugly Potato Mask
So Natural launched "So Vegan Ugly Potato Mask", a sleeping mask that hydrates and soothes skin overnight.
"So Vegan Ugly Potato Mask" features a soft, crunchy texture that looks like mashed potatoes, and provides a fresh, cooling sensation that helps relieve heat stress on the skin caused by prolonged sun exposure during the day. Furthermore, the product comes in a convenient sleeping mask cream format that doesn't need to be washed off after application, keeping skin hydrated throughout the night.

Potato Extract, the star ingredient of the product, was upcycled using ugly potatoes allowed to grow freely in their natural shape. Additionally, the formula also contains Rice Bran Water, a by-product of rice milling that is rich in vitamins and helps smooth skin texture, soothe skin and brighten overall skin tone. 
Isoi – Blemish Care Serum [renewal]
Isoi announced the renewal of their iconic "Blemish Serum" to mark the 12th anniversary of its first release.
The "Blemish Serum" has been the number 1 best-selling serum at Olive Young for 8 consecutive years and is considered the brand's most popular product. The key ingredients of the serum are distilled Rose Otto (Bulgarian Rose Oil), which is only cultivated and harvested in the Rose Valley of Kazanlak, Bulgaria, along with Arbutin. The two ingredients work in synergy to effectively provide a quick brightening effect. In addition, the formula also contains skin soothing ingredients like Houttuynia Cordata and Centella Asiatica that help reduce redness and inflammation.
With this formulation, Isoi wanted to improve the effectiveness of the product by adding Bearberry Leaf Extract (Arctostaphylos Uva-Ursi Extract), a whitening and anti-oxidant ingredient, and Baobab Leaf Extract (Adansonia Digitata Leaf Extract), a soothing and moisturising ingredient.

The serum was certified to improve skin texture, tone and clarity through multiple clinical trials, and it also completed primary skin irritation tests.
AHC – Protein All Charging Serum
Contemporary aesthetic beauty brand AHC launched "Protein All Charging Serum", a serum containing protein capsules that improve skin elasticity in 10 seconds.
Rising concerns over decreased skin elasticity caused by prolonged mask-wearing, led to a renewed interest in proteins and firming anti-aging care, with ingredients like collagen and elastin that promise to help with reduced elasticity linked to skin aging.

To respond to this trend, AHC launched "Protein All Charging Serum", a firming serum that contains 360,000 ppm of protein, the largest amount of protein available in an AHC product.

The serum contains encapsulated protein molecules smaller than 500Da and was formulated with a 1:1 protein/water ratio that is similar to the one of the skin's stratum corneum, allowing the encapsulated protein to penetrate deep into the skin. The liquid part of the serum also contains 5 proteins that are naturally found on the skin, and work together to effectively improve elasticity and hydration inside and outside the skin.

Through multiple clinical trials, the serum was proven to improve sagging skin, double chin, decreased eyelid elasticity, forehead wrinkles, general loss of tone, nasolabial folds, and frown lines in just 10 seconds upon application.