New Korean skincare products [June – Weeks 2-3]
Given the sheer amount of Korean beauty products launching every month, it's hard to keep up with what's new in K-Beauty. To help you navigate the complex world of Korean Beauty, every week I break down the hottest beauty launches coming from Korea.
Unlike with my monthly posts on K-Beauty bestsellers, you won't find any link to purchase these products as they just became available in Korea.
But without further ado, here are the latest Korean skincare offerings of the week! 
This week there won't be any post for make-up as there haven't been many make-up launches in the last two weeks. I'll cover the few launches of the past weeks in the recap for week 4.
Serumkind – Muscat Clearing Drop
Serumkind, a brand specialised in serums that offers targeted solutions for specific skin concerns without elaborate skincare routines, launched "Muscat Clearing Drop" for irritated and blemish-prone skin.
"Muscat Clearing Drop" contains 80% of Shine Muscat Extract and 2% PHA, and boasts excellent anti-inflammatory and anti-bacterial properties that help calm irritation and leave skin clear and smooth. Resveratrol, a compound abundant in Shine Muscat, has outstanding anti-bacterial and soothing properties that work to calm irritated skin.

Furthermore, PHA, which is suitable even for sensitive skin, helps remove dead skin cells and improve skin texture and tone. The ingredient was tested on blemish-prone skin and it's especially recommended to treat irritation and blemishes.

The product features an oil-free watery texture that sinks into the skin, providing a light and refreshing feeling without greasiness or stickiness even after multiple applications.
Dr.G – R.E.D Blemish Cica Soothing Cream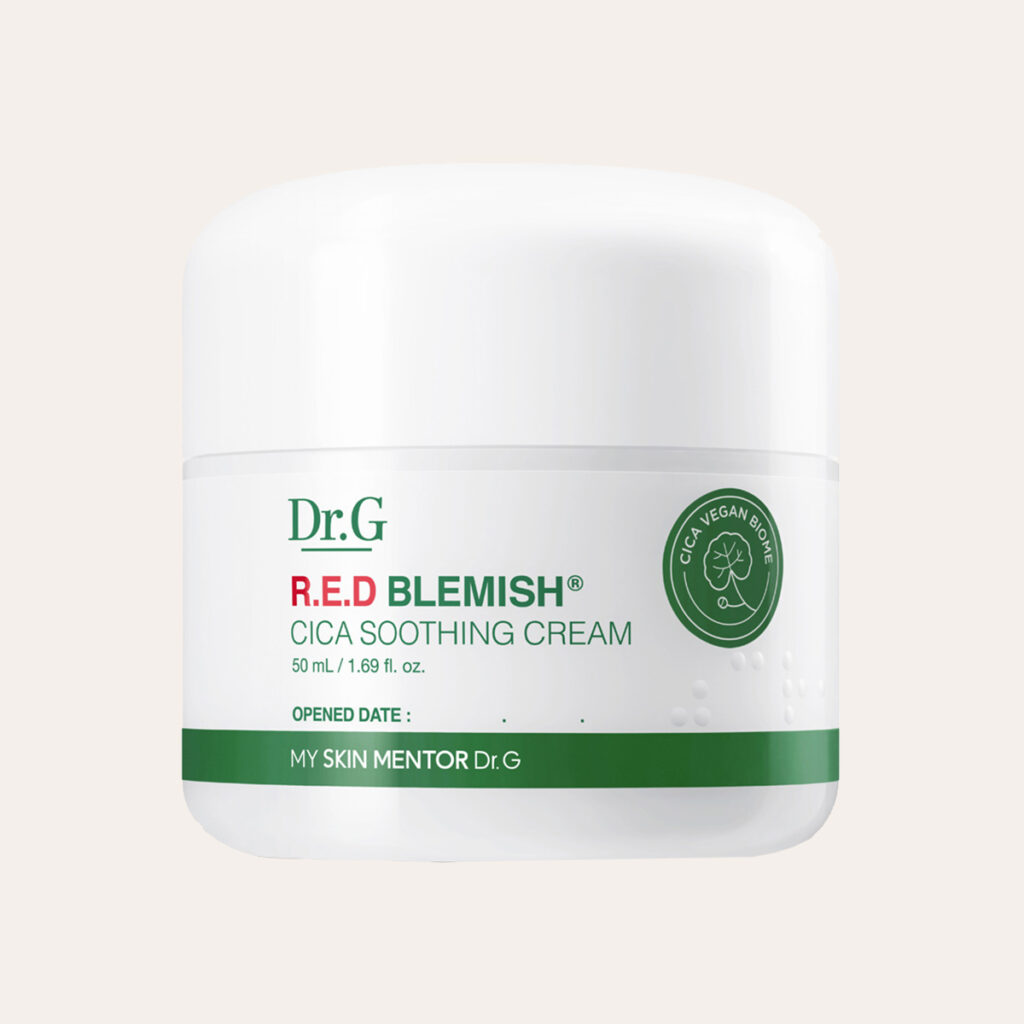 Dr. G, a dermocosmetic brand by Gowoonsesang Cosmetics, launched "R.E.D Blemish Cica Soothing Cream" a moisturising and soothing solution that effectively calms down sensitised skin.
The new "R.E.D Blemish Cica Soothing Cream" is a soothing and moisturising cream that contains the patented ingredient "Centella Biome" jointly developed by Dr.G and the ODM Cosmax, to help maintain a healthy skin barrier.
The product contains 300 times the amount of "5-Cica Complex", the key ingredient of Dr.G's most representative soothing and moisturing range "R.E.D Blemish", of the bestselling "R.E.D Blemish Clear Soothing Cream" and this helps quickly soothe sensitive skin. The cream also contains "Green Calming Complex", a moisturising ingredient to replenish skin, and boasts a lightweight gel cream formula that is suitable for all skin types.
"R.E.D Blemish Cica Soothing Cream" is the first Dr.G product to obtain the EVE Vegan Certification from the Vegan France association, an internationally renowned vegan certification body. 
Age 20's – UV Veil Marine Essence line
Aekyung Industrial's representative cosmetic brand Age 20's, launched "UV Veil Marine Essence Sun", a line of two soothing suncare products that gently hydrate skin and protect it from strong UV rays.
The line contains "Aqua Seal", a naturally-derived moisturising ingredient that combines Birch and Beech extracts to restore skin's natural moisture balance and reduce water loss.
"UV Veil Marine Essence Fresh Sun SPF50+/PA++++" is a sunscreen that, along with blocking UV rays, hydrates and soothes skin. It contains 11 "Marine Relief" ingredients derived from seaweeds like Kelp, Fucoidan and antioxidant-rich Ecklonia Cava, that form a moisturising film to keep dry skin hydrated and protect sensitive skin from external aggressors.
The 67% essence content, makes the application of the sunscreen hydrating, refreshing and transparent with no white cast. The product is eco-friendly as it doesn't contain 10 ingredients that are potentially harmful to the marine ecosystem.
On the other hand, "UV Veil Marine Essence Sun Stick SPF50+/PA++++" features a 51% essence content thanks to the application of Age 20s's' exclusive technology "Essence Pocket Technology". The product boasts a lightweight texture that is not greasy, sticky or shiny.
UV Veil Marine Essence Fresh Sun SPF50+/PA++++
UV Veil Marine Essence Sun Stick SPF50+/PA++++
The Face Shop – Natural Eco Sun Super Active Reef-Safe Sun Cream
Ahead of the summer season, The Face Shop launched "Natural Eco Sun Super Active Reef-Safe Sun Cream SPF50+/PA++++" a sunscreen especially designed for outdoor sea activities.
"Natural Eco Sun Super Active Reef-Safe Sun Cream SPF50+/PA++++" boasts strong UV protecting and waterproof properties with a soft and hydrating formula that does not budge even during activities like swimming or surfing, and can be used for both face and body.
The product contains Birch Sap and Rooibos Leaf Extract, ingredients that have soothing properties on skin exposed to UV rays.
"Natural Eco Sun Super Active Reef-Safe Sun Cream SPF50+/PA++++" takes care of the skin as well as the environment, since it doesn't contain Oxybenzone or Octinoxate that are considered harmful to coral reefs.