New Korean Beauty Products [March – Week 4]
Given the sheer amount of Korean beauty products launching every month, it's hard to keep up with what's new in K-Beauty. To help you navigate the complex world of Korean Beauty, every week The Monodist breaks down the hottest beauty launches coming from Korea.
Mamonde – Rose Hydra Glory Ampoule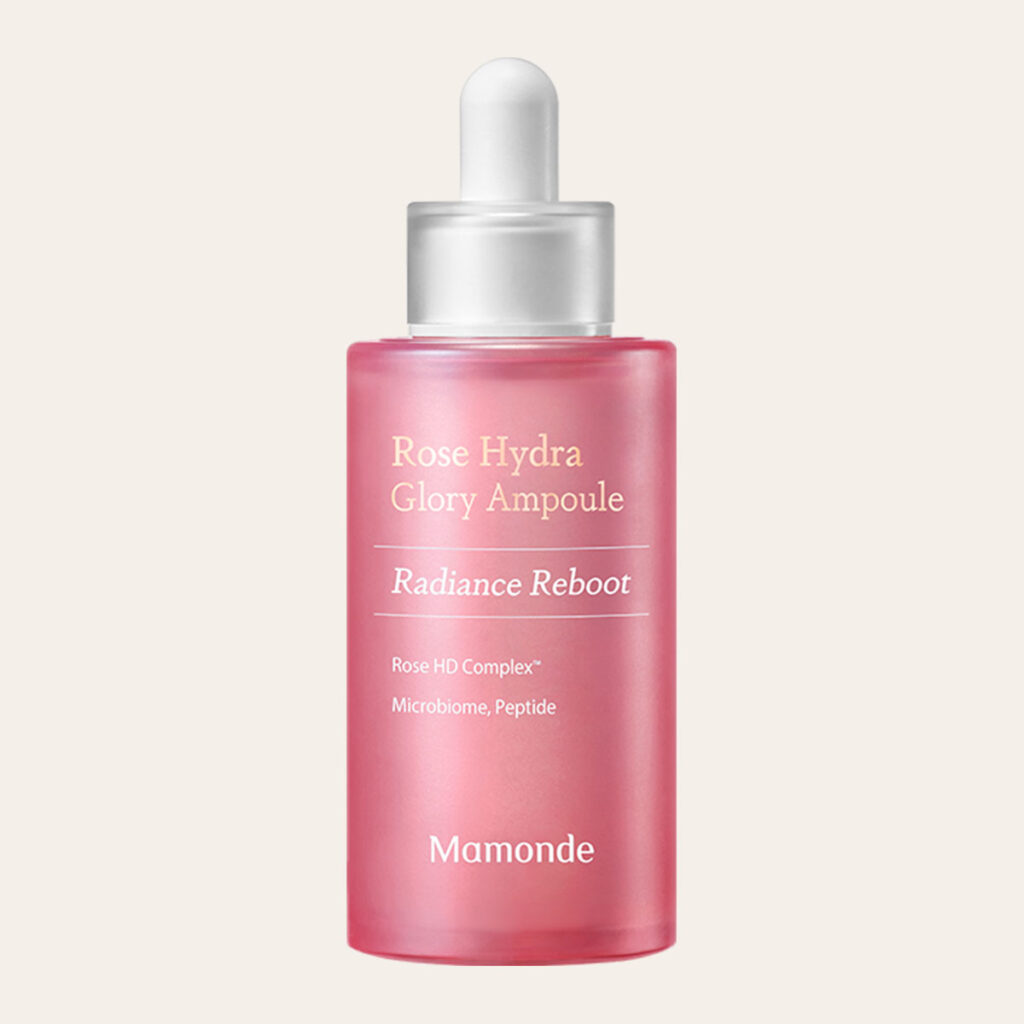 Mamonde announced the launch of "Rose Hydra Glory Ampoule".
The newly released "Rose Hydra Glory Ampoule" is an illuminating and hydrating ampoule that gives skin three-dimensional radiance thanks to Rose HD Complex™, which combines Damask Rose Water and 5-Fold Hyaluronic Acid.
The product boasts a watery formula that is lightweight and yet, deeply hydrating. It's a fast-acting ampoule that is rapidly absorbed and leaves a thin, non-sticky moisture film on the surface of the skin, quickly replenishing skin with just one application.
It contains 60.4% Damask Rose Water, the key ingredient of Mamonde's Rose Water line, and provides intense hydration with five different molecular weights of Hyaluronic Acid. It also contains microbiome ingredients to support skin barrier function and peptides to increase skin elasticity.
Mamonde's "Rose Hydra Glory Ampoule" improves moisture retention by 631% immediately after use, and deeply hydrates skin by penetrating up to 10 layers deep into skin surface. In addition, the moisture film formed by the ampoule was shown to last for 72 hours and skin texture showed 100% improvement immediately after use.
Gowoonsesang Cosmetics's dermacosmetic brand Dr.G launched "Greenmide™" a vegan moisturising skincare line. The line consists of two product to restore moisture in dry and dehydrated skin: "Greenmide™ Moisture Relief Cream" and "Greenmide™ Moisture Barrier  Calm Essence".
The new "Greenmide™" is a hypoallergenic vegan skincare line designed for sensitive skin. All products contain Greenmide™, a compound that thoroughly supports skin barrier function and is composed of: Filaggrin, to enhance skin moisture, EcoCeramide™, to deliver nourishment to keratinocytes, and Betaine to form a protective moisture film.
Both products are 100% vegan and certified by the organisation EVE Vegan.
"Greenmide™ Moisture Relief Cream" is a moisturising cream that restore moisture to dry skin. It contains ceramide, cholesterol and fatty acids in an optimal 3:1:1 ratio, which is similar to the composition of the skin barrier. Additionally, it also contains Madecathenol, a combination of Madecassoside and Panthenol, and Beta-Glucan to provide moisture and temporarily relieve itching caused by dryness. The lamellar-in-lamellar texture mimics the natural structure of the skin and protects weakened skin barrier, while second skin technology allows quicker absorption of moisturising ingredients, delivering comfortable moisture without weighing down the skin.
"Greenmide™ Moisture Barrier Calm Essence" is a gentle moisturising essence that replenishes skin texture. It contains Aquaporin and Madecathenol that support skin hydration, calm down irritation and add luster to the skin. It's an all-in-one product that provides moisture, barrier support, soothing, and hydration. It can be used in multiple ways, from a daily skincare product, to a face mask or a makeup base.
Dr.G – Greenmide Moisture Relief Cream
Dr.G – Greenmide Moisture Barrier Calm Essence
3CE – Syrup Layering Tint
3CE launched "Syrup Layering Tint" a syrup-like lip tint with a light, glossy texture that comes in vivid and bright shades. One layer delivers a sheer colour, while multiple applications provide a more pigmented result, making it easy to create a gradient lip look.
The product has a watery texture with over 42% hydrating ingredients, that make lips plump and glossy. It boats an "oil in wtaer drop" formula that reduces smudging and maintains brightness and hydration for a long time.
"Syrup Layering Tint" is available in 7 shades: #Youth Coral, #Grapeful, #Single Cherry, #Sober Fig, #Stayful, #Alive Pink and #Afternoon Peach.
Luna – Lighting Up Formula Pot
Aekyung Industrial's makeup brand Luna announced the launch of "Lighting Up Formula Pot", which helps add colourful sparkles to glittery eye makeup looks.
"Lighting Up Formula Pot" is a glitter pot that can be used to create multiple types of looks. The product features glitter particles of various sizes, from fine pearls to glass glitter shards to deliver three-dimensional sparkle.
"Lighting Up Formula Pot" provides bright, buildable coverage without clumping and can be used on anywhere, including eyelids, aegyo sal or inner corner of the eye.  
The product comes in 3 types of formulas and 6 shades in total:
Shimmering – A melting formula that blends smoothly on to the skin. Available in #Bare (a nude tone base with silver fine pearls) and #Highteen (a bright baby pink base with blue and purple fine pearls).
Dazzling – A soft cream powder formula with small and large glitter particles. Available in #Champagne (a a champagne-coloured gold base with opalescent pearls) and #Mystic (a purple pink base with opalescent pearls).
Big Parts – A hydrating water gel formula with sparkly glass glitter in various sizes. Available in #Gleam On (a white base) and #Rose Quartz (a coral pink base).