Dr.G – Medi UV Ultra Up Sun+ SPF50+/PA+++
Brand: Dr.G
Product Name: Medi UV Ultra Up Sun+
Protection: SPF50+/PA+++
Water Resistance: Not waterproof
Capacity: 50ml
Formulated by: Kolmar Korea
Manufactured by: Kolmar Korea
Distributed by: Gowoonsesang Cosmetics
Country of Manufacture: South Korea
Functional Cosmetic Certifications: Triple-Functional Cosmetic (UV Protection, Whitening, Anti-Wrinkle)
Original Retail Price: 33,000 KRW
Date of Release: November 2021
Shelf life: 36 months before opening. 12 months after opening
Sunscreen type: Hybrid (organic + inorganic filters)
UV Filters: Ethylhexyl Methoxycinnamate, Zinc Oxide, Ethylhexyl Salicylate, Titanium Dioxide, Bis-Ethylhexyloxyphenol Methoxyphenyl Triazine
Notable allergens: Fragrance
Water, Cyclopentasiloxane, Ethylhexyl Methoxycinnamate, Zinc Oxide, Ethylhexyl Salicylate, Titanium Dioxide, Glycerin, Dicaprylyl Carbonate, Dipropylene Glycol, PEG-10 Dimethicone, Dimethicone, Niacinamide, Disteardimonium Hectorite, Portulaca Oleracea Extract, Silica, Panthenol, Tocopheryl Acetate, Biosaccharide Gum-1, Oxygen, Centella Asiatica Extract, Houttuynia Cordata Extract, Opuntia Ficus-Indica Extract, Aloe Barbadensis Leaf Extract, Sophora Flavescens Root Extract, Cimicifuga Racemosa Root Extract, Punica Granatum Fruit Extract, Pueraria Lobata Root Extract, Hippophae Rhamnoides Fruit Extract, Calendula Officinalis Flower Extract, Helianthus Annuus (Sunflower) Seed Extract, Hedera Helix (Ivy) Extract, Butyrospermum Parkii (Shea) Seedcake Extract, Sodium Hyaluronate, Magnesium Sulfate, Aluminum Hydroxide, Bis-Ethylhexyloxyphenol Methoxyphenyl Triazine, Stearic Acid, Dimethicone/Vinyl Dimethicone Crosspolymer, Methicone, Caprylyl Glycol, Glyceryl Caprylate, Polyglyceryl-6 Polyricinoleate, Adenosine, Mineral Water, Butylene Glycol, Theobroma Grandiflorum Seed Butter, Thermus Thermophillus Ferment, Magnesium Aspartate, Sarcosine, Sodium Cocoyl Amino Acids, Potassium Aspartate, PEG-8, PPG-1-PEG-9 Lauryl Glycol Ether, Sodium Polyacrylate, Phytic Acid, Fragrance, Phenoxyethanol
정제수, 사이클로펜타실록세인, 에칠헥실메톡시신나메이트, 징크옥사이드, 에칠헥실살리실레이트, 티타늄디옥사이드, 글리세린, 다이카프릴릴카보네이트, 다이프로필렌글라이콜, 피이지-10다이메티콘, 다이메티콘, 나이아신아마이드, 다이스테아다이모늄헥토라이트, 쇠비름추출물, 실리카, 판테놀, 토코페릴아세테이트, 바이오사카라이드검-1, 산소, 병풀추출물, 약모밀추출물, 보검선인장추출물, 알로에베라잎추출물, 고삼뿌리추출물, 라케모사승마뿌리추출물, 석류추출물, 칡뿌리추출물, 비타민나무열매추출물, 포트마리골드꽃추출물, 해바라기씨추출물, 서양송악추출물, 시어버터씨드케이크추출물, 소듐하이알루로네이트, 마그네슘설페이트, 알루미늄하이드록사이드, 비스-에칠헥실옥시페놀메톡시페닐트리아진, 스테아릭애씨드, 다이메티콘/비닐다이메티콘크로스폴리머, 메티콘, 카프릴릴글라이콜, 글리세릴카프릴레이트, 폴리글리세릴-6폴리리시놀리에이트, 아데노신, 미네랄워터, 부틸렌글라이콜, 쿠푸아쿠씨버터, 테르무스 테르모필루스발효물, 마그네슘아스파테이트, 사코신, 소듐코코일아미노산, 포타슘아스파테이트, 피이지-8, 피피지-1-피이지-9라우릴글라이콜에터, 소듐폴리아크릴레이트, 파이틱애씨드, 향료, 페녹시에탄올
Highly-adhesive hybrid sunscreen that provides strong protection against UV rays.
Besides protecting skin from UV rays, "Medi UV Ultra Up Sun+" also contains ingredients like Panthenol and Tocopherol to strengthen skin's moisture barrier. It's a triple functional cosmetic that blocks UV rays, brightens complexion and improves the appearance of wrinkles.
It's a hybrid sunscreen that combines the benefits of organic and inorganic filters and perfectly adheres to the skin, making it hydrated and smooth without leaving any white cast.
The product comes in an eco-friendly paper packaging that is easy to recycle.
Dr.G privately commissioned tests to verify the UV protection of the sunscreen and obtained the certifications below. Please note that these tests were privately commissioned by the company and are not legally equivalent to the pre-market tests required to commercialise a sunscreen in South Korea. For more information on sunscreen regulations in South Korea, please refer to this video.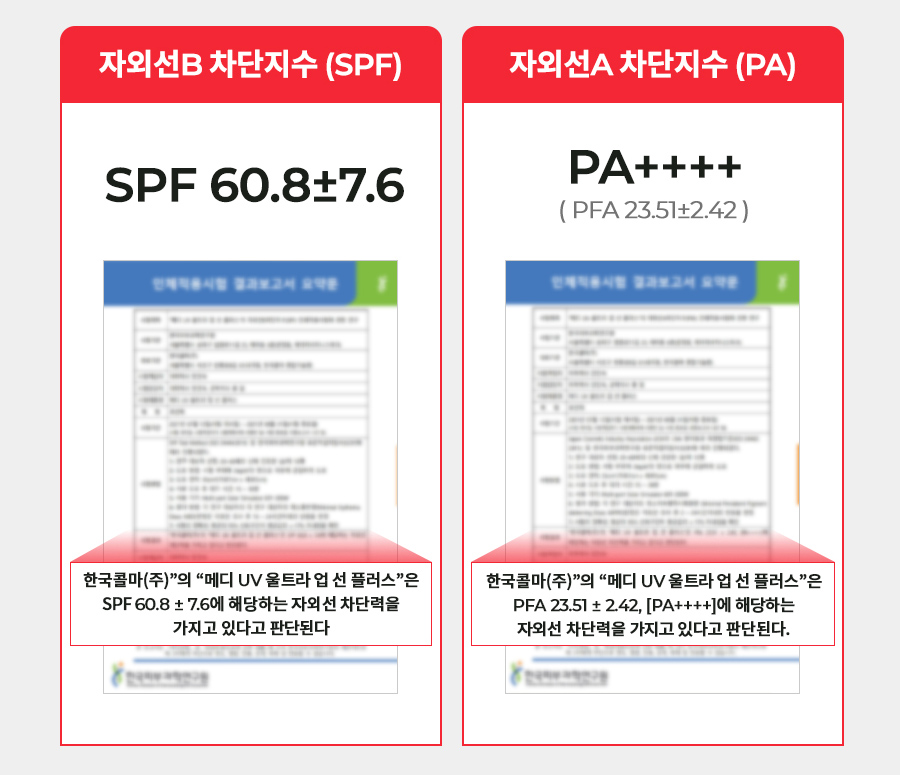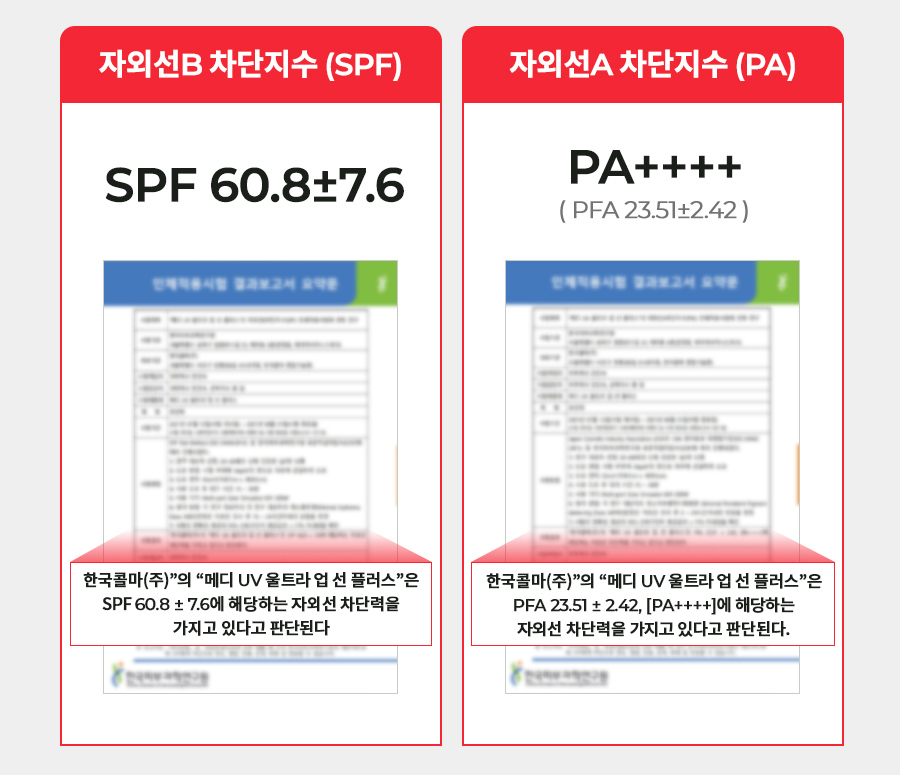 At the last step of your skin care routine, take an adequate amount and apply it evenly across areas of the skin exposed to UV rays.
Please consult a specialist if there are any abnormal symptoms or side effects such as red spots, swelling or itching when using the cosmetic or after use. Keep away from children. Store away from direct sunlight. For external use only. Do not use on wounds or if you are allergic to any ingredients of this product. Do not stay too long in the sun, even while using a sunscreen product.
Other editions and formulations:
Medi UV Ultra Sun SPF50+/PA++++ (launched: July 2021, formulated and manufactured by: Kolmar Korea)
Medi UV Ultra Sun SPF50+/PA+++ (launched: March 2017, formulated and manufactured by: Kolmar Korea, PX stores exclusive)
Medi UV Ultra Sun SPF50+/PA+++ (launched: April 2014, formulated and manufactured by: Kolmar Korea)
Source: Dr.G website
Translation: © 2022 Odile Monod
Disclaimer: The list above contains a combination of affiliate and non-affiliate links. If you make a purchase through one of my affiliate links, I will earn a small commission (paid by third party companies, not you). Commissions help fund the content production of the Monodist. For more information on my affiliate policy please refer to my About page. Some links are missing because the item is not available outside of Korea at the moment.