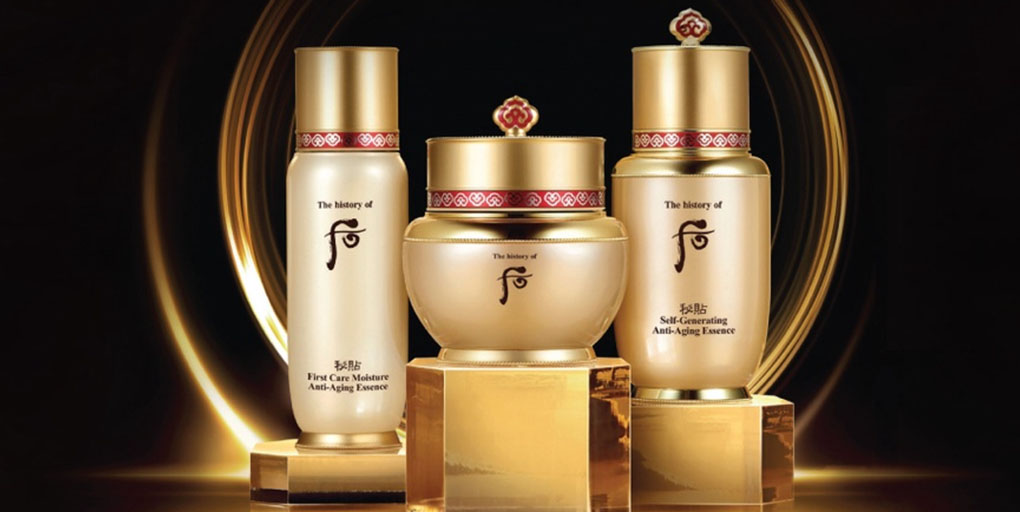 The History of Whoo – Bichup line
The Bichup (비첩) line is The History of Whoo's representative skincare line. It's a complete anti-aging skincare treatment that works both preventively and correctively. The products in the Bichup line work together to enhance skin's natural self-repairing power, reduce visible and underlying signs of aging,  and improve overall skin immunity.
Disclaimer: I personally translated the majority of facts and contents in this article from original Korean sources, so I kindly ask you to credit my work if you're planning to use any of the information included in this guide.
Many concepts mentioned in this guide are based on Oriental Medicine principles, for a better understanding please refer to the introduction to Traditional Korean Medicine on this website. It's important to stress out that there is no correspondence between Oriental Medicine organs and Western anatomy so capitalised names in this article shouldn't be interpreted in the Western medical sense.
Individuals looking for a complete anti-aging line that works both preventively and correctively.
Sagginess and decreased elasticity.
Dull and tired-looking skin.
Visible pores.
Weakened and dehydrated skin.
Skin barrier support.
The main products of the Bichup line don't have many ingredients in common, rather they are developed as standalone products with complimentary effects that work in synergy to stimulate skin regeneration and boost circulation.
Like all products from The History of Whoo, the products in the Bichup range contain the brand's signature ingredient Gongjibidan.
⬥ Gongjinbidan (공진비단, 供辰秘丹)
All products from The History of Whoo incorporate Gongjinbidan (공진비단, 供辰秘丹) a proprietary herbal complex that constitutes the core ingredient of the brand.
Gongjinbidan is based on Gongjindan (공진단, 拱辰丹), a traditional Oriental medicine prescription originally created by Chinese physician Wei Yilin. According to the classical text or Oriental Medicine "Efficacious Remedies of the Physicians" (세의득효방, 世醫得效方), Gongjindan was a remedy exclusively reserved  for emperors and for this reason, it earned the name of "Emperor's Medicine"4.
Gongjindan appears in many traditional medical texts from China and Korea and it's described as a remedy that strengthens the body's immune defenses and brings back the natural balance between its organs.
The Donguibogam (the most representative text of Traditional Korean Medicine) describes the Gongjindan as follows:
If a man is sickly even after growing up, he is constitutionally weak. In such a case, body fluids should be increased but body heat should be cooled down. Other medicines are inefficacious against it, but this medicine is effective to harmonize internal organs with each other and to prevent various diseases.

DONGUIBOGAM (1613)
To this day, Gongjindan is a vital tonic that is still commonly used in many Asian countries to combat chronic fatigue, weak constitution and deteriorated immunity.
Through the integration of modern dermatology, LG Household & Health Care developed a cosmetic ingredient based on the original prescription for Gongjindan: Gongjinbidan.
The Gongjinbidan Complex contains equal amounts of six precious herbal ingredients2, including:
Deer Antler Extract, which is rich in collagen and amino acids. It helps stimulate skin regeneration, replenish skin nutrients and relieve dryness. In Oriental Medicine the ingredient is commonly used to improve symptoms of aging because it helps tonify Qi and Blood. and, in turn, reinvigorate the body.
Acanthopanax Root Bark to relieve irritation and revitalise skin.
Angelica Gigas Nakai which is rich in Vitamin E and essential oils. It's known to replenish Qi and nourish Blood, meaning it restores vital energy levels and promote a healthy circulation of nutrients and energy across the body.
Asparagus Cochinchinensis to refine skin texture. It also helps brighten and even skin tone. It's used to treat Yin Deficiency, which manifests as a generalised dryness across all vital organs and excess heat. 
Cornus Officinalis, a powerful anti-oxidant naturally rich in vitamin A which sports tonifying and astringent properties. [T/N In Oriental Medicine "astringent" ingredients have the function of rebalancing the mail vital substances that animate the human body: Essence, Body Fluids and Qi]
Wild Thyme, which has anti-bacterial properties. 
Overall, the ingredient promises to increase energy flow, rebalance the body's yin and yang, reinvigorate skin and make it appear more radiant, soft and youthful3.
Bichup First Moisture Anti-Aging Essence
Bichup Moisture Anti-Aging Mask
⬥ Recommended order of use
Bichup First Moisture Anti-Aging Essence
Bichup Self-Generating Anti-Aging Concentrate
Bichup Ja Yoon Cream
⬥ International Retailers
Sources: LG Household & Health Care (unless otherwise stated)
Translation: © 2022 Odile Monod
Disclaimer: The list above contains a combination of affiliate and non-affiliate links. If you make a purchase through one of my affiliate links, I will earn a small commission (paid by third party companies, not you). Commissions help fund the content production of the Monodist. For more information on my affiliate policy please refer to my About page. Some links are missing because the item is not available outside of Korea at the moment.