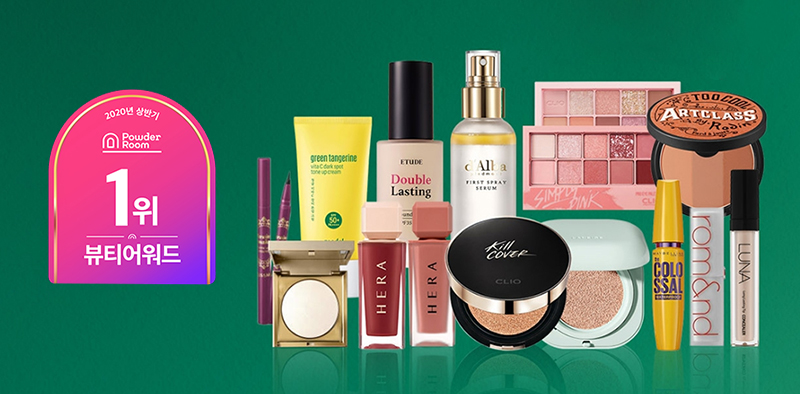 Powder Room Beauty Awards 2020
Powder Room is a Korean beauty platform turned app that has been popular way before some of us even knew what K-beauty was all about. From its humble beginnings back in the wild internet age of 2003, it has grown to be a trusted forum, ranking service and information hub for the almost 200 million members that it has accumulated.
This makes Powder Room one of the oldest and most well-regarded online places for expert advice, tips, and hacks on all things beauty in South Korea. Even though it has been present for almost 20 years, it has remained an intimate and safe space for users. Besides browsing and scrolling through daily news and the ranking sections of the app, Powder Room has dedicated sections on shopping, fashion, food, and daily life.
2020 Powder Room Beauty Awards
The Powder Room Beauty Awards take place twice a year and they highlights the best products and celebrates established and new names in the beauty and make-up industry. These awards reflect the opinions and preferences of real beauty experts and make-up fans.
For the end of year review, users were asked to take part in a survey between November 16th and November 29th 2020. Members could rate and review their favourite products from a range of categories, as well as pick their favourite user-submitted make-up look of the year. The results are weighted so that the opinion of users accounts for 80% of the vote, and 12,000 people participated in the 2nd part of 2020. The remaining 20% is evenly divided to account for the opinion of beauty editors and beauty influencers.
In addition to highlighting products from 53 different categories, Powder Room also celebrates the best and most prolific reviewers on the site. This puts great emphasis on the idea of community and encourages members to stay active and provide in-depth, helpful reviews that other users will benefit from greatly.
2020 Korean Beauty Trends
The Covid-19 global crisis has changed the way we shop, live and socialize dramatically and the beauty world has not been left unaffected. Thankfully, we have seen a lot of brands leading the way, with innovative delivery systems to ensure customer satisfaction and the launch of products that can combat some of the current challenges present. Some of the key trends highlighted this year are products that focus on soothing, low-irritation and transfer-proof ingredients.
With mask-wearing becoming a daily occurrence in our lives, sensitive skin issues and irritation are core concerns of buyers at the moment. Brands that adapted quickly and address these issues will continue to perform well if they continue this way. The "mask makeup" category has remained one of the most commonly searched for by users this year. Despite masks, however, lip products have not lessened in popularity but they do need to be transfer-proof so they don't budge or smudge. Matte lipsticks are the obvious choice here, but the more hydrating creamy and satin finish lip products have also performed admirably.
They say the "eyes are the window to the soul" but when you wear a mask the eyes are the only window to your face and canvas available. This is probably one of the reasons, make-up reviewers that focused on eye-makeup and especially unique and artistic creations were rated higher and made it to the top of the list.
Keep scrolling to discover the best-rated products from this year's second annual Powder Room Consumer Awards.
(You might also be interested in my post on the 2020 Powder Room mid-year awards)
CATEGORY: POWDER ROOM PICK
CATEGORY: SKINCARE
CATEGORY: CLEANSING
CATEGORY: FACE MASKS
CATEGORY: FUNCTIONAL COSMETICS
CATEGORY: BASE MAKE-UP
CATEGORY: COLOUR MAKE-UP
CATEGORY: BODY CARE
CATEGORY: HAIR CARE
CATEGORY: HEALTH AND DIET
Source: Powder Room
Translation: © 2020 Odile Monod
Disclaimer: The list above contains a combination of affiliate and non-affiliate links. For more information on my affiliate policy please refer to my About page.