The History of Whoo – Gongjinhyang Soo line
The History of Whoo's Gongjinhyang Soo (공진향:수) is a skincare line designed to replenish skin's hydration levels and promote a radiant, healthy complexion. Unlike most lines by The History of Whoo, Gongjinhyang Soo features fresh, lightweight formulas that would be suitable even for young, oily and combination skin.
Disclaimer: I personally translated the majority of facts and contents in this article from original Korean sources, so I kindly ask you to credit my work if you're planning to use any of the information included in this guide.
Many concepts mentioned in this guide are based on Oriental Medicine principles, for a better understanding please refer to the introduction to Traditional Korean Medicine on this website. It's important to stress out that there is no correspondence between Oriental Medicine organs and Western anatomy so capitalised names in this article shouldn't be interpreted in the Western medical sense.
Individuals in their teens and 20s 
Oily and combination skin
Dehydrated skin
Preventive anti-aging
Rough skin texture
Repair oxidative damage
Rebalance of natural oil & water levels
Gongjinhyang Soo is an antioxidant and revitilising skincare line that helps rebalance the skin's natural hydration levels through the application of an Oriental Medicine principle called Suseunghwagang (수승화강, 水昇火降). "Suseunghwagang" is a theory that describes Energy (Qi) circulation and literally translates to "water goes up, fire goes down".
According to this principle, when the human body is in its optimal and balanced condition, the upper part of the body is cold (water, Yin) and the bottom part of the body is warm (fire, Yang). When the bottom part of the body is heated, the warm fire energy pushes the cold water energy toward the upper part, cooling the head. At the same time, cold water energy coming down from the head receives the warm fire energy from the heart, sinks and heats the lower abdomen, facilitating the function of internal organs.
As a result, Qi flows smoothly and the body is healthy.
If this flow is disrupted, the opposite phenomenon develops: heat stagnates in the head (resulting in headaches, insomnia, skin irritation) and cold water energy stagnates in the abdomen (resulting in digestive issues, poor blood circulation and weakened skin). Products in the Gongjinhyang Soo line were designed to rebalance this flow by controlling excess heat, replenishing moisture levels and stimulating healthy energy flow.
In particular, all products in the Gonjinhyang Soo line contain Gongjinbidan (공진비단, 供辰秘丹), The History of Whoo's signature ingredient, along with other royal remedies like Gyeongokbidan (경옥비단, 琼玉精萃), Cheongiksoodan (청기익수단, 清氣益壽丹) and Yeonhwa Saenggidan (연화생기단, 莲花生气精萃).
All ingredients have been processed using a Wetting method (습윤포제법) to enhance their hydrating properties and minimise oil content7. For more information on the role of processing methods in Traditional Korean Medicine, please refer to the guide on this website.
⬥ Gongjinbidan (공진비단, 供辰秘丹)
All products from The History of Whoo incorporate Gongjinbidan (공진비단, 供辰秘丹) a proprietary herbal complex that constitutes the core ingredient of the brand.
Gongjinbidan is based on Gongjindan (공진단, 拱辰丹), a traditional Oriental medicine prescription originally created by Chinese physician Wei Yilin. According to the classical text or Oriental Medicine "Efficacious Remedies of the Physicians" (세의득효방, 世醫得效方), Gongjindan was a remedy exclusively reserved  for emperors and for this reason, it earned the name of "Emperor's Medicine"1.
Gongjindan appears in many traditional medical texts from China and Korea and it's described as a remedy that strengthens the body's immune defenses and brings back the natural balance between its organs.
The Donguibogam (the most representative text of Traditional Korean Medicine) describes the Gongjindan as follows:
If a man is sickly even after growing up, he is constitutionally weak. In such a case, body fluids should be increased but body heat should be cooled down. Other medicines are inefficacious against it, but this medicine is effective to harmonize internal organs with each other and to prevent various diseases.

DONGUIBOGAM (1613)
To this day, Gongjindan is a vital tonic that is still commonly used in many Asian countries to combat chronic fatigue, weak constitution and deteriorated immunity.
Through the integration of modern dermatology, LG Household & Health Care developed a cosmetic ingredient based on the original prescription for Gongjindan: Gongjinbidan.
The Gongjinbidan Complex contains equal amounts of six precious herbal ingredients2, including:
Deer Antler Extract, which is rich in collagen and amino acids. It helps stimulate skin regeneration and rebalance skin. In Oriental Medicine the ingredient is commonly used to improve symptoms of aging because it helps tonify Qi and Blood. and, in turn, reinvigorate the body.
Acanthopanax Root Bark to relieve irritation and revitalise skin.
Angelica Gigas Nakai which is rich in Vitamin E and essential oils. It's known to replenish Qi and nourish Blood, meaning it restores vital energy levels and promote a healthy circulation of nutrients and energy across the body.
Asparagus Cochinchinensis to refine skin texture. It also helps brighten and even skin tone. It's used to treat Yin Deficiency, which manifests as a generalised dryness across all vital organs and excess heat.
Cornus Officinalis, a powerful anti-oxidant naturally rich in vitamin A which sports tonifying and astringent properties. [T/N In Oriental Medicine "astringent" ingredients have the function of rebalancing the mail vital substances that animate the human body: Essence, Body Fluids and Qi]
Wild Thyme, which has anti-bacterial properties.
Overall, the ingredient promises to increase energy flow, rebalance the body's yin and yang, reinvigorate skin and make it appear more radiant, soft and youthful3.
⬥ Gyeongokbidan (경옥비단, 琼玉精萃)
Gyeongokbidan (경옥비단, 琼玉精萃) is a modern reinterpretation of Gyeongokgo (경옥고, 瓊玉膏), one of the 3 main restorative remedies recorded in the Donguibogam4. Gyeongokgo is also known as "Noblemen's medicine"6 because in the past it used to be a prescription reserved for nobles and members of the royal court.
Gyeongokgo, also known as "Precious Jade Paste" is originally used to treat chronic fatigue and emaciation related to Lung Qi and Yin Deficiency5.
In Oriental Medicine, Lung Qi regulates the preservation or excretion of fluids through the skin, and consequently the opening and closing of the skin pores. As a result, when Lung Qi is deficient, pores appear excessively open. On the other hand, Yin deficiency manifests through a generalised dryness across all vital organs, skin included.
Through the application of a proprietary technology, LG Household & Health Care developed a cosmetic ingredient based on the original prescription for Gyeongokgo: Gyeongokbidan.
Gyeongokbidan rebalances Lung Qi and Yin and helps smooth skin texture by replenishing moisture and reducing the appearance of pores.
The formula is composed of: Cultivated Ginseng + Rehmannia Glutinosa + Wolfiporia Extensa (Peck) Ginns + Liriope Muscari.
⬥ Cheongiksoodan (청기익수단, 清氣益壽丹)
Cheongiksoodan (청기익수단, 清氣益壽丹) is a modern reinterpretation of Changshou Yishou Dan (장춘익수단, 長春益壽丹), a famous beauty herbal prescription used by Chinese Empress Dowager Cixi of the Qing Dynasty8.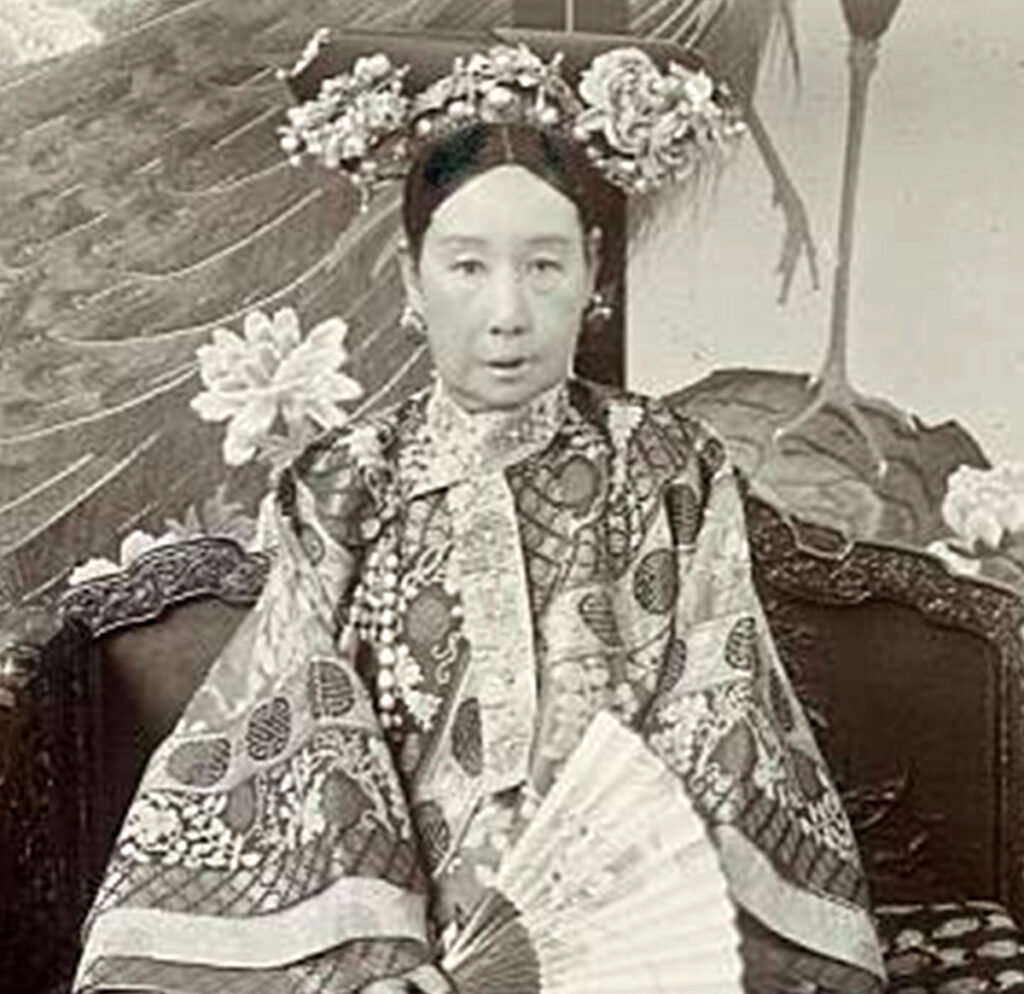 Xunling, The Empress Dowager Cixi (1903)
Empress Dowager Cixi was known to have an extensive beauty routine that allowed her to maintain her youthful appearance even in mature age. American portrait painter Katharine Carl, who lived in the Chinese Imperial Court for nine months and became a close acquaintance of the Empress, argued that Cixi had a "wonderfully youthful appearance"10.
Photographs of Empress Cixi in her 70s caused a sensation in the West as they showed the sovereign having a perfect smooth complexion with no visible wrinkles. However, critics later argued that official portraits were retouched to enhance the Empress's beauty11.
Changshou Yishou Dan was known to rejuvenate skin and promote a luminous complexion by supplementing the deficiency of the four meridians of the Heart, Kidney, Spleen and Stomach and promoting the flow of Qi (energy)9.
LG Household & Health Care applied modern dermatological theories to create an ingredient with the same properties of Changshou Yishou Dan: Cheongiksoodan. Cheongiksoodan is composed of traditional herbal ingredients that are naturally rich in Germanium, a mineral that helps supply oxygen to the body and combat free radicals. In Oriental Medicine terms, the ingredients work by supplying skin with Clear Qi (청기, 淸氣), the vital essence the body inhales from the natural environment and that helps promote blood circulation.
As a result, Cheongiksoodan makes skin radiant, clear and compact. The formula is composed of: Cultivated Ginseng + Tuber Fleeceflower + Goji Berry.
⬥ Yeonhwa Saenggidan (연화생기단, 莲花生气精萃)
Yeonhwa Saenggidan (연화생기단, 莲花生气精萃) is an exclusive formula that combines the replenishing properties of Lotus Flower with the antioxidant benefits of Nelumbinis Plumula, the green seed embryo of the lotus flower.
Yeonhwa Saenggidan promotes a healthy-looking complexion by combating free radicals, reducing inflammation, repairing oxidative damage caused by environmental aggressors like UV rays, and supporting skin barrier function to prevent moisture loss.
The ingredient completed the Oxygen Radical Absorbance Capacity (ORAC) assay conducted by: Kyung Hee University College of Life Science, Department of Genetics and Biotechnology on 2018.12.17 – 2019.02.15.
Gongjinhyang Soo Intensive Hydrating Cream
Gongjinhyang Soo Vital Hydrating Cream
Gongjinhyang Soo Vital Hydrating Essence
Gongjinhyang Soo Vital Hydrating Emulsion
Gongjinhyang Soo Vital Hydrating Balancer
Gongjinhyang Soo Hydrating Foam Cleanser
Gongjinhyang Soo Hydrating Overnight Mask
⬥ Recommended order of use
Gongjinhyang Soo Hydrating Cleansing Water
Gongjinhyang Soo Hydrating Foam Cleanser
Gongjinhyang Soo Vital Hydrating Balancer
Gongjinhyang Soo Vital Hydrating Essence
Gongjinhyang Soo Vital Hydrating Emulsion
Gongjinhyang Soo Vital Hydrating Cream / Gongjinhyang Soo Intensive Hydrating Cream
Gongjinhyang Soo Vital Hydrating Sun Fluid SPF50+/PA+++
⬥ International Retailers

1. 김은진. (2003). "나도 한번쯤 써보고 싶다! 피부 보약, 한방 화장품." 레이디경향.
2. LG Household & Health Care. (2017). "1조 브랜드 행차요!"
3. "피부 미학의 결정체, 더 히스토리 오브 후." (n.d.). Www.whoo.co.kr. Retrieved  20 May 2022 from www.whoo.co.kr/brand/secretClothes.jsp.
4. 김태인. (2020). "Gyeongokgo Is Known to Rejuvenate Our Body and Strengthen Immunity – 월간파워코리아." Power Korea
5. Sunwoo, Y.-Y. et al. (2019) "Hematologic and Serological Investigation of Effect on Gyeongokgo in Healthy Individuals : a Randomized, Subject-assessor-blind, Placebo-controlled, Single-center Pilot Study," Journal of Physiology & Pathology in Korean Medicine. Korean Society of Oriental Pathology. doi: 10.15188/kjopp.2019.08.33.4.239.
6. Haejuclinic. (n.d). "Haeju Gyeongokgo." Retrieved 25 May 2022 from http://en.haejuclinic.com/product/gyeongokgo/ 
7. 오주희, 신재석, 이성준, 이종철, 임준홍, 안은석, 홍시갑 and 홍준기. 2009, "한약재 포제 가공의 현대적 연구 현황", Journal of Pharmaceutical Investigation, vol.39, no.4 pp.275-297.
8. Baidu Baike. (n.d.) "长春益寿丹". Retrieved 25 May 2022 from https://baike.baidu.com
9. 中药方剂 (n.d.) "长春益寿丹_【中药方剂】中医药方,中药方." Retrieved 25 May 2022 from Zhongyaofangji.com
10. Chen, D. (2013). "The Western Perception of Empress Dowager Cixi". Master of Arts. University of Victoria.
11. Peng, Y. (2013). "Lingering Between Tradition And Innovation: Photographic Portraits Of Empress Dowager Cixi." Ars Orientalis, Vol. 43.
Sources: LG Household & Health Care (unless otherwise stated)
Translation: © 2022 Odile Monod
Disclaimer: The list above contains a combination of affiliate and non-affiliate links. If you make a purchase through one of my affiliate links, I will earn a small commission (paid by third party companies, not you). Commissions help fund the content production of the Monodist. For more information on my affiliate policy please refer to my About page. Some links are missing because the item is not available outside of Korea at the moment.